What a whacky offseason/summer for college football. I almost forgot to write this because the season has basically snuck up on everyone. You've got over half of the college football teams playing right now, in what feels like a mirage of a season, and then you still have the Big Ten, Pac 12, Mountain West, and MAC working their way back. As it turns out, science and caution did not really prevail. The daily testing obviously helped get football going again for these conferences, but you can see just how unreliable the results can be and how many false positives there are if you've been following the NFL.
So what's the squad going to look like? Well, no spring ball, opt outs, graduation, attrition, have caused a big time turnover of this roster. Frankly, I do not know what it is going to look like other than very inexperienced and young. Hell, the entire backup offensive line is going to be redshirt freshmen and a true freshmen except for maybe one player. At any rate, let's dive in and make some wild predictions and take some guesses.
OFFENSE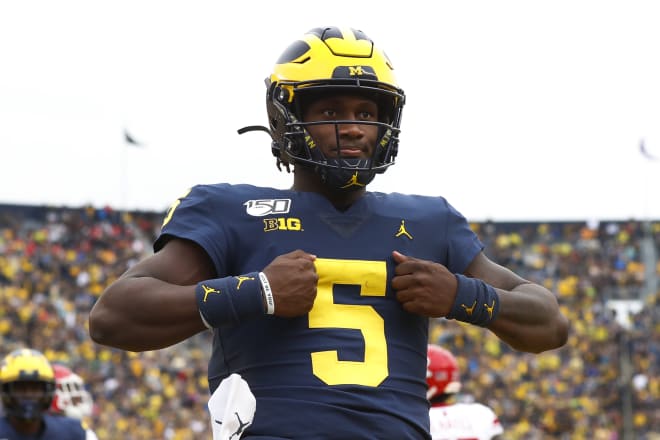 The offense comes in with a plethora of question marks. New starting QB, four new offensive linemen, three of your top five wide receivers gone…it's going to be an issue. But, what they do have is a formidable stable of running backs. If this team can control the line of scrimmage and run the ball down everyone's throats, they will have a chance to win some games.
Last year Shea Patterson was adequate but never turned into the game changer everyone thought he would be when he got on campus. Frankly, adequate is putting it kindly. Naturally, everyone thought that Dylan McCaffrey would be the successor but as it turns out it is Joe Milton. DMC opted out and got ready to grad transfer as soon as the season was announced it was back on, so logically we can infer that Harbaugh and the staff told him he had lost the job to Milton. If DMC was going to be a starter, there's no reason for him to make this move. Obviously losing DMC dings the depth and Cade McNamara seems capable, but if Milton goes down they will be flirting with disaster depth-wise.
Since Milton's arrival on campus, he has been raved about. His athleticism, his arm talent, everything has been described as elite. We have seen flashes of him as a player in some mop up time and you could see he was dripping potential, but his performance was average. He threw a fastball every single time he could and then he followed it up with some wildly errant throws and poor decision making. Frankly, it made you wonder whether or not he was capable of reading a defense. 
(Skip ahead to 15:30 to see Milton's snaps)
The fan base seems quite keen on anointing Joe Milton as "the next one"…but I'm hoping they all take a Xanax and relax a bit and let the kid develop and grow before putting the weight of the world on his shoulders. Yes, this team will need him to play extremely well to win a Championship. But without a real spring practice, it's hard to imagine that Milton has made such absurd strides that he went from third string and incapable of reading zone coverage to being a mega-star to bring Michigan to the promise land. I'm not saying that he cannot ever become that either. I'm saying let's pump the damn brakes for once, let him use this shortened season to get acclimated and see what he is made of and then put high expectations on him next fall.
As I said before, the running back group is loaded. They added Chris Evans back into the fold after an academic issue last year and did not lose anyone for a change. They even had Christian Turner opt back in once the season was announced it was back on. For me, I'm not a huge Chris Evans fan in terms of his future potential, but he can be a serviceable back when he's grouped with Zach Charbonnet, Hassan Haskins, and Turner. He's too much of a tweener to be a true difference maker, but perhaps he got faster during his year off. Evans has always been quicker than fast for me and does not have the true breakaway speed for his size. Charbonnet is a stud and should get the bulk of the work. I would love to see Haskins and Evans supplement his carries and then mix in some Turner/Blake Corum/Giles Jackson on passing downs or to get some speed in there. Hell, they should line up Evans in the slot with their issues at wide receiver and let him run routes and catch passes, both have always been strengths for him. Last year, Michigan seemed keen on using Haskins a lot and I think that had a bit to do with Charbonnet being banged up (and Haskins developing as the season went on). I'm hoping now that Charbonnet has had time to heal up with the extended offseason that he is going to be the bellcow. Haskins is a great change of pace bruiser that can break a lot of tackles and provide some thump, but I still think it is time for Charbonnet to get the bulk of the work.
In case you've been living in a hole and not paying attention, wide receiver is going to have some of the biggest turnover of any position group. Losing Donovan Peoples-Jones to the draft last year, Tarik Black to transfer and now Nico Collins to the draft for next year is suboptimal to say the least. All are understandable I suppose, but it's too bad that Tarik did not stick around. He would have had a ton of playing time available and would have been starting opposite Ronnie Bell no problem. This leaves Michigan with 6 scholarship wide receivers and very little room for error. Ronnie Bell is the de facto WR1 and while he has certainly become more than Michigan could have ever dreamed of when they recruited him, I would still prefer to have someone better as the WR1. He is very good about 85-90% of the time and then runs into issues with drops…it'll be interesting to see how he handles each team's best corner. 
I'm curious to see which wide receivers join Ronnie Bell starting, but I'm guessing it'll be a heavy rotation between Mike Sainristil, Giles Jackson, and A.J. Henning. Josh Gattis has said that all six scholarship wide receivers are going to play, but I would be willing to bet that these three and Cornelius Johnson get the bulk of the work alongside Bell. I have not seen what Roman Wilson can do, but you know he will get playing time based on what Gattis said. Sainristil and Jackson will bring some serious speed to the group and I would be willing to bet they manufacture a lot of touches for Giles Jackson. 
You might remember something like this from the bowl game. For me, I think the best use of the wide receivers will be to actually utilize the Speed In Space mantra the offense has adopted and get the ball to them as quickly and as often as possible and watch them work. I'm not sure who will emerge as the team's go-to deep threat, but it'll probably end up being Ronnie Bell. No one can replace Nico Collins ability on deep balls, but someone will have to try.
At tight end, the return of Nick Eubanks gives them experience and I'm sure they will have him line up as a big slot option. His versatility and ability as a pass catcher will definitely help the fact that they only have 6 scholarship wide receivers. Not to mention the emergence of Erick All as a pass catching option will give them more versatility with their formations. All and Luke Schoonmaker give Michigan a lot of depth at the tight end position and I would expect both of them (ESPECIALLY All) to get a ton of snaps this year. Coming into Michigan, I expected All to be more like Eubanks, where they're basically an Eric Ebron style tight end. Pass catcher, matchup nightmare, average to below average blocker. All showed that he has the ability to be a better than average run blocker and since he has had plenty of time to add weight this offseason, I would be willing to bet that he ends up playing more than Eubanks would like. Schoonmaker will likely serve as the depth option here, but I would expect Eubanks to play a lot of wide receiver and for All to take on more of the traditional in-line tight end role. His athletic traits will make him an absolute nightmare and if his run blocking has continued to improve, it'll help balance the offense and run the ball efficiently.
The offensive line is going to be a major piece of work this year with losing four of their five starters to the draft. Jalen Mayfield is the only returning starter (albeit barely) and while Ryan Hayes has started at left tackle, there is not much experience on this offensive line.
LT: Ryan Hayes LG: Chuck Filiaga C: Andrew Vastardis RG: Andrew Steuber RT: Jalen Mayfield
Steuber was in the mix to start at right tackle last year until he blew out his knee and naturally, he was not going to start over Mayfield once he got back into the fold. The backups for this offensive line (with the exception of Joel Honigford) are all redshirt freshmen or a true freshmen. 
If the season goes sideways for Michigan early on, I certainly hope they make a shift and play the young guys like Barnhart, Zinter and Keegan. If they're good enough to be mentioned in the preseason like this, they should get snaps if the team is going to be out of the running for a Big Ten Championship early. No reason to give more snaps and game time to redshirt juniors and seniors when the future could get meaningful snaps in a season that will most certainly have an asterisk. Not to mention the fact that the guys that are starting have not had starting experience before, so who knows what to expect from them at this moment. This is not to imply that the new trio in the middle is incapable, but merely to point out the fact that they are replacing a talented group and with an inexperienced quarterback, their job is even more important. Based on everything I've read/heard, Vastardis and Steuber should be more than capable starters…and I would imagine that if Filiaga struggles, that Keegan or Barnhart will step in. 
DEFENSE
This defense is experiencing a pretty sizable turnover in the backend. Losing Josh Uche, Mike Danna and Khaleke Hudson in the front seven certainly hurts their depth, but they return a pretty experienced group.
Aidan Hutchinson and Kwity Paye are going to be the anchors of the defensive line and will be tasked with getting after the quarterback. Carlo Kemp, Donovan Jeter, and Chris Hinton will be charged with anchoring the middle of the line and hopefully Mazi Smith will take the next step. Frankly, the defensive line will be a major weakpoint, again, if Hinton and Smith do not take a leap forward. The middle of the defensive line was repeatedly gashed by the run and it ended up crippling the team. Michigan gave up 359 yards to Wisconsin and 264 to Ohio State…not exactly making it easier on themselves in those two losses. Without an improvement in the run defense, they will end up having the same issues as last year. 
The linebacking group is going to be the strength of this defense. The emergence of Cam McGrone last year when Josh Ross got hurt has given Michigan two majorly talented options at linebacker. McGrone took over the MIKE spot, and hopefully Ross has adjusted to the WILL spot. Michael Barrett will be the new VIPER, replacing the experienced Hudson, and Ben VanSumeren moved from fullback to linebacker in the spring and will likely take over the SAM spot. The interesting part is that every linebacker spot, minus the VIPER, will have a freshmen backing them up. Khalel Mullings and Nikhai Hill-Green have made their presence known, even without any spring ball, and both true freshmen will be in the mix. David Ojabo redshirted last year and he'll likely move between DE and the SAM linebacking spot in the rotation. I would not be surprised to see Cornell Wheeler in the mix at linebacker too (another true freshman). It says a lot about the depth chart and available playing time that Osman Savage (true freshman) and Charles Thomas (redshirt freshman) have already transferred. Without any spring game to have any idea how these kids all fit in, I'm going to go out on a limb and assume that Anthony Solomon (backup VIPER) will end up being the backup at all four linebacking spots. So I suppose, technically, all of their backups will not be freshmen. But it speaks volumes that there are so many young players on the two-deep. Solomon played last year as a true freshman and his athleticism and power gives him versatility to play anywhere. There are some questions with this group, but mainly about the lack of depth and inexperience, they should have one of the better starting groups in the Big Ten.
The defensive back group is going through some turnover this year and Ambry Thomas opting out certainly did not help their inexperience. The way it looks to me, this leaves Vincent Gray as the #1 corner, with Gemon Green and DJ Turner vying for the other outside spot and true freshman Andre Seldon starting in the slot. If Turner beats out Green (and it sounds like he's currently in the lead), that would be two of the three starting corners with zero game experience. Daxton Hill is going to shift back into his free safety spot after playing in the slot last year and Brad Hawkins will be the starting strong safety. Essentially three of the five secondary members have experience and the two that do not have zero games under their belt, and this makes me unsettled if you could not tell. I'm sure the football team has had controlled scrimmages and practiced quite a bit the past couple weeks, but it will have been a significant chunk of time between real games for quite a few of these guys, especially the redshirt freshmen.
To be quite frank, I'm not quite sure what to expect from the defense. They have experience in the front seven but not much depth to speak of and the secondary is going to be an interesting work in progress. They are going to have to improve their run defense and pressure the passer to take some of the pressure off the secondary. 
As for the specialists, it sounds like Quinn Nordin and Jake Moody are in a battle, but I expect Nordin to hang on. Will Hart will be the punter and as for the returners, I can only guess. I would make an educated guess that Giles Jackson will return kicks and Ronnie Bell will return punts but we do not really know for sure right now.
DEPTH CHART
This is a depth chart based on what has been said in the media/implied various places. Since Jim Harbaugh is not big on releasing depth charts, we'll just have to watch the games and see.
SEASON PREDICTION
It's easy for me to say that this team will go as far as Joe Milton will take them. The inexperience on the offensive line and in the secondary could be crippling for this team. If this team can establish the run, and Milton can be a game manager, they'll win a majority of their games no problem. If Milton can be anything more or less than that, that will impact how the team goes. Absolutely nothing about what I'm saying is groundbreaking but that does not mean it is not true. If Milton has learned to read defenses and put touch on his throws and be more than a game manager, the sky is the limit for him and this offense. I personally do not expect him to make the jump year one in that regard. His raw talent is undeniable, but many guys cannot learn to process the game without any actual game experience. Practice and summer ball/training does not replace in-game reps. I think this will be a great year for him to learn/grow/develop and take a big time step forward next fall. Obviously that is not what the fanbase wants to hear, but I think that's the best case scenario. This year is going to be a year of growth and development for this team, they have a ton of redshirt freshmen and inexperienced players on the depth chart and they are going to need as many reps as they can get. Next year will be Michigan's year to compete for a Big Ten Championship (which really should be Michigan's new motto instead of Those Who Stay Will Be Champions).
Regular Season

DATE

OPPONENT

TIME

Prediction
 
Sat, Oct 24

7:30 PM

 
Sat, Oct 31

12:00 PM

W

 
Sat, Nov 7

TBD

W
 
Sat, Nov 14

TBD

W
 
Sat, Nov 21

TBD

W
 
Sat, Nov 28

TBD

L
 
Sat, Dec 5

TBD

W
 
Sat, Dec 12

12:00 PM

L
Now for this year, every team is getting a +1 game during the Big Ten Championship week. This was an idea from Harbs himself to get teams a 9th game, where you play the team from the opposite division in line with your seed (#2 East vs #2 West, #3 East vs #3 West, etc). So naturally I'm only going to make predictions for the regular season. Perhaps the best thing to come out of this pandemic is the fact that Michigan State and Indiana got flipped to how they were before the East-West split so now Michigan State and Ohio State will come to Ann Arbor in opposite years. Something that seems minor, but something that matters.
I look at this schedule and think that 5-3 or 6-2 are the most likely ways that it shakes out. The Speed In Space went through some monstrous growing pains last year and frankly, looked awful at times. I believe one of the Michigan beat writers Nick Baumgardner said something to the effect of, Michigan has a Cheesecake Factory menu on offense and they just keep running everything they can think of and do not have a plan. Last year the offense did take steps forward as time wore on, absolutely no doubt about it, especially once Gattis called plays on the field. The establishing of the run game helped and they will need that this year. The defense even tried to run more zone coverage, which was all well and good but because of some recruiting and transfers, they did not have any defensive tackles to try and stop the run. Can the young players step up and change that this year?
This team has said they are closer than any team ever before because of the pandemic and not knowing whether they will play or not. Michigan has never had more than four captains before, and since I'm going to try and be an optimist, I think this is a good sign that shows they have a lot of veteran leaders holding people accountable.
This team has holes and flaws and inexperience…and some of the problems rest with the coaching staff. Offensively, Harbaugh has shown a willingness to try anything, but defensively they still have a lot of the same issues with too much man coverage. Now you bring in two inexperienced corners…will the defense try and play the exact same way or will they make more adjustments like they started to last year? Playing Minnesota at night on the road on National TV right out of the gate is going to be a tremendous test. Will the team show up right away or will they get blown out in the first quarter and battle back only to fall short? Or will they show up and kick some ass and then fall asleep at halftime and get blown out? Harbaugh's teams have rarely played a complete game on the road against a ranked opponent and it has to stop. There was very little turnover on the coaching staff this year, no new offense to put in place, no new defensive scheme. There are new players, but there is no reason this coaching staff should not have everyone ready to go off the hop. I'm not asking Harbaugh to go out and win a Championship with this roster in a COVID year, I'm asking to see some progress in areas that have seemingly plagued his teams the past three years. 
[Photo via: The Athletic]
[Photo via: Rivals]
[Photo via: Michigan Photography]