Well I think it is quite fair to say that nobody saw last season coming. I mean, I did because my preview predicted they would go 9-8, but if you did not read the preview you were certainly surprised! Actually with how the season started I would have told you they had a zero percent chance of going 9-8 and I felt dumb for being optimistic earlier on. Progress was being made but the results were not on the field. They hit rock bottom in New England and I thought that they would implode to be honest. Instead, everything started clicking and eventually they flipped a switch and could not lose. It seemed as though they would win out and finally break through into the playoffs. They're already seen as the favorites for the division for this coming season, which is incredible to think about considering where they were at when they traded Matthew Stafford.
There is plenty of reason for optimism and this team has a great chance to make strides going forward, but there are still positions of need and holes to fill. I'm not a huge Jared Goff fan, but I also do not think it is time to draft a quarterback like Anthony Richardson or Will Levis. If CJ Stroud falls into your lap…now you have my attention. I get the argument that you may never pick at #6 again if all goes according to plan, but I would rather spend draft capital in the future and potentially overpay for an emerging mega-star than bank on developing someone. For every Josh Allen (who took three years and Stefon Diggs arriving to hit), there are hundreds of quarterbacks that cannot play. Why not trust in Jared Goff and continue to build around him and build up the defense before taking a crack on another QB?
At any rate…what are our expectations for Brad Holmes and co. this draft? Well the expectation is for him to crush it again. I had some doubts early on and the first class still has some issues and guys with injuries that may never pan out…but he smashed an absolute home run with this last class. When you're plucking starters and playmakers on day 3 of the NFL Draft, you're in a good spot. So what's in store for this year? I think to expect more of the same would be tough…he's not Superman after all. But, with two first round picks and two second round picks, it is not out of the realm to expect at least four potential starters to come out of the class next year (unless of course they trade up).
Now you'll notice that Jameson Williams has been removed from this depth chart and that is because he's suspended for the first six games next year. Is the rule he broke a dumb rule? Yes. Is the punishment he received excessive? Of course. But rules are rules. How clear they made it known that you cannot bet on any sports while at the team facility/hotel/plane/etc I'm not sure…but he deserves to be punished for breaking the rules. It's a tough start for him to his promising career and definitely reinforces my feelings that they need to draft a WR in the mid-rounds. I like Raymond and Reynolds but you see how thin it is without Jameson. Marvin Jones is not going to be around for a long time, so I would put WR as a clear need at the moment.
Getting back on track here, I would say that quarterback is also a need. Whether they sign Teddy Bridgewater, draft a quarterback in the mid-rounds, or take a shot at someone early, I would be stunned if they did not add a quarterback during the draft or shortly after. They cannot run it back with just Nate Sudfeld as the backup and I know that Holmes and Campbell know this. My preference is to target a guy like Jake Haener or Aidan O'Connell later in the draft rather than spend early capital…we'll see if they feel the same way. Neither one of those guys would be considered a developmental player or a future starter, but I think they both would be better in a pinch than Sudfeld. I've made it pretty clear I'm anti-Richardson, Levis or Hooker. They all have too many negatives for me to want them to take a shot. Richardson and Levis are all tools with minimal production and average tape. Hooker is 25 turning 26 in January coming off a torn ACL in a simplified college offense that does not translate well to the pros. Please skip all three, Brad.
Running back took an interesting turn this offseason when Jamaal Williams rejected the contract offers he had and went to market. We'll likely never know the full story but it seems like Jamaal did not like the offer and went to market so the Lions snagged David Montgomery. Jamaal found out that the market did not like him as much as he thought and ended up in New Orleans for less money. Seems like a classic case of an agent/player overplaying their hand and getting left in the dust. I loved what Jamaal brought as a leader and a competitor but David Montgomery is head and shoulders above him as a player. For me, Monty can absolutely be a bellcow and contribute in the passing game and his will ultimately spell the end for D'Andre Swift. His contract is up after the season and I would not be surprised if they moved on from him at the draft. And even if they do not, they still need to draft a running back for depth. A good change of pace back for Montgomery, similar to Swift, but one that is more adept in the passing game and one that is more reliable when it comes to injuries. Swift is infuriating to watch because he would constantly take the easy way out and avoid contact and still was banged up all the time. He got better as the year went on, but I've still seen enough from him to know he's not worth the money in the long run. Now if Swift wants to stay in Detroit on a discount, I'm all ears.
Wide receiver was touched on briefly before and despite having Jameson Williams and Amon-Ra St. Brown, there is still room for improvement. As I said, I like Khalif Raymond and Josh Reynolds as your 4-5, especially factoring in Raymond's ability in the return game. But they still have a big hole at the WR3 spot and I don't think that Marvin Jones Jr is the answer. He will be good in the short term but adding a wide receiver in the 3rd round would be a solid move. I'm not sure how long Cedric Tillman will last in the draft but he would be a perfect fit at the X-Receiver. That would be a game-breaking trio if each manages to stay healthy and out of trouble. With the way the league is trending, you can never have enough pass catchers.
Speaking of pass catchers it is time to address the giant hole at tight end. First and foremost, I 100% fully supported the trade of TJ Hockenson. The money he was going to command is not something you wanted to give him. Between the injuries and his play, he was not worth the cost. So they finished the year with Brock Wright, Shane Zylstra, James Mitchell, etc and they were…fine. I like both Wright and Mitchell and think they each have a role on the team moving forward. But they still need to look at tight end when this is a historically good class. There are likely six tight ends that will go in the first three rounds, which is pretty much unheard of. I do not want the Lions to use a first round pick on a tight end, but the two picks in the 2nd round? They have my blessing. The first round should be two defensive players and the second round should be offensive line and tight end (if the board breaks exactly how you hope it does obviously). Being able to snag Darnell Washington at the top of round two would be ideal..it's unlikely, but he would be the type of guy that can impact the run game and passing game right away. Tight ends always have a tough adjustment their first year in the NFL, but I'm confident with Wright and Mitchell that they would be able to ease in whichever player they drafted and get him comfortable faster. They do not need to spend a first round pick on a tight end, but do not kid yourself, this is a position of need and one that should be addressed in the mid rounds.
You may think that the offensive line does not need to be addressed with the amount of draft capital that has been invested and that's fine. That's a fair opinion to have, especially when you factor in the free agent money given to Vaitai and now Graham Glasgow. But the way I see it, Vaitai just restructured his contract so he did not get cut and will be gone after the year and Glasgow is nothing more than a yearly fill in/utility guy that can play anywhere in the interior. You always want to plan ahead and be working from a position of strength, not desperately trying to solve this problem a year from now. I think the Lions will look to address the starting right guard spot during the draft. Whether they draft a guy that is a tackle and moves inside or not is the real question. They could draft someone early and move him from tackle to guard and when they eventually move on from Taylor Decker, move him back outside. Or they could target someone like Steve Avila, who will be able to start at RG or C, and then give them position versatility in the future or in case of injury. Another question mark will be whether or not they can afford Jonah Jackson's extension. My preference is yes, but if the guard market is bad he could command a hefty price that the Lions may not want to pay. Ideally the offensive line looks like LT: Taylor Decker LG: Jonah Jackson C: Frank Ragnow RG: New Draft Pick RT: Penei Sewell. Glasgow or Vaitai would be a fine starter at the RG spot if they do not draft anyone and they stay healthy, but both are likely gone after the year. Not to mention Taylor Decker only has two years left on his contract and he will be 32 when it is up. Naturally they could keep Decker, but drafting someone with position versatility that can kick out to RT later on would be a smart move (assuming they would move Sewell over to LT in the event they moved on from Decker). There's a lot of ways to set up this offensive line for long-term success if they draft someone in the first two rounds and with Goff at QB, the investment needs to be there. He needs protection to be efficient and he needs a run game. If you're not going to protect him, then you're going to wish you had drafted a QB.
Shifting over to the defensive side of the ball and you see that there are quite a few more holes to fill than on the offensive side. Offensively you've got change of pace RB, X receiver, backup QB, starting TE and starting guard. Needs for sure, but not nearly as pressing. For my money, I would spend the 6th and 18th overall picks on defense. I do not really care which positions but ideally they would add an EDGE and a CB. They have plenty of rotational pieces at the EDGE to rotate with Hutchinson and to file in and out opposite him, but they do not really have a true starter to play opposite him. And if they do, they certainly have not shown themselves as of yet. The Okwaras, Josh Pascal, John Cominsky, James Houston and Charles Harris have all proven to be useful and proficient. But I do not see any of them as a full-time starter with Hutchinson. Ideally, Will Anderson or Tyree Wilson drops to the 6th overall pick and the Lions sprint to turn in the card. This, however, seems to be an increasingly unlikely scenario as we get closer to the draft. Maybe the Lions are totally fine not addressing the EDGE spot and prefer the committee approach. If that's the case, then they need to address the interior defensive line early. Frankly, they should probably do that even if they draft an EDGE early. Alim McNeill is a great player and has shown he is a full-blown starter. The problem is, who plays next to him? Isaiah Buggs is fine. Levi Onwuzurike showed flashes as a rookie but did not play at all last year with a back injury…this is a major problem when you consider the capital that was invested in him. Do the Lions dare take a shot at Jalen Carter? If not for the off-the-field stuff that has come out the past few months (plus his poor workouts), I think it would have been a slam dunk to draft him at #6 had he fallen there. I'd like to think the Lions have a strong enough core to keep anyone in the locker room in line, but the gambling scandal that just broke has me questioning all of that. No matter the case though, a starting EDGE and another starting DT are at the top of the list of needs for me.
Looking at the linebacker spots your first inclination is probably to say that they need to draft one early. And while I would love to replace Alex Anzalone, based on the contract he just got, the Lions love him. He did not get a 3-year $18.3 Million contract just to ride the pine pony or teach some rookie, even if there is an out in two years. Couple that with Malcolm Rodriguez's emergence last year and I'm not so sure they will look at linebacker at all until day 3. It's quite apparent that they love their starting linebackers and even if Derrick Barnes has not developed, he still has shown flashes. I think the Lions will look to add some depth at this spot but I cannot imagine they will spend any capital of significance on the position group. If they did draft someone like Drew Sanders or Jack Campbell in the 2nd round I would absolutely support it.
The secondary is the hot spot to look at when discussing positions of need for the Lions. I think they are in a pretty good spot with their starting five for next year, but when you look at the contracts that guys got, you know that they are not done adding. Emmanuel Moseley and CJ Gardner-Johnson are not signed beyond this year and Tracy Walker has a potential out in his contract after this year. That means that Cameron Sutton and Kerby Joseph are the only two that are signed for the next two years so you know they're going to start planning for the future here. Maybe Moseley comes back from his injury and has a career year and the Lions keep him. Maybe CJGJ has a career year and wants to stay. You cannot bank on maybes. I do not mind Jerry Jacobs but when you look at the rest of the corners, there is not much. Saivion Smith, Chase Lucas, Will Harris…all very average players at best. Obviously they made it clear that Jeff Okudah was not going to be in their long-term plans and you knew they were not going to pick up his 5th year option. I would have liked a little more than a 5th rounder for him, but this gives them a bit more flexiblity later in the draft. Now with CJ Moore cut, your backup safeties are Ifeatu Melifonwu and Brady Breeze. Which means that if Kerby Joseph or Tracy Walker goes down, CJGJ will be playing safety because there is no way they're rolling with those two. In a thin safety class, this means that Brian Branch at #18 cannot be off the table for the Lions. They will have to get creative if injuries pop up and they do not draft secondary early.
As for special teams? Draft Jake Moody. No matter what. They're set at punter but the kicking game was a total mess after Holmes messed up and cut Riley Patterson. I never advocate for drafting specialists, but I would spend one of the 5th or 6th round picks on Jake Moody. History tells us that typically the first kicker in the draft will go in the 5th round. There are exceptions, but I would be stunned if he was available in the 6th.
So for a quick recap…what are the needs?
Tier 1: EDGE, CB, DT
Tier 2: OG, TE, WR, K, S
Tier 3: LB, RB, QB
You'll notice that is a lot of positions and they will not be able to fix all of them during the draft. Many of you will probably even disagree with how they're tiered…but that is why this is so fun and such an important time of year. You need to find contributors everywhere you can and I'm confident the Lions will.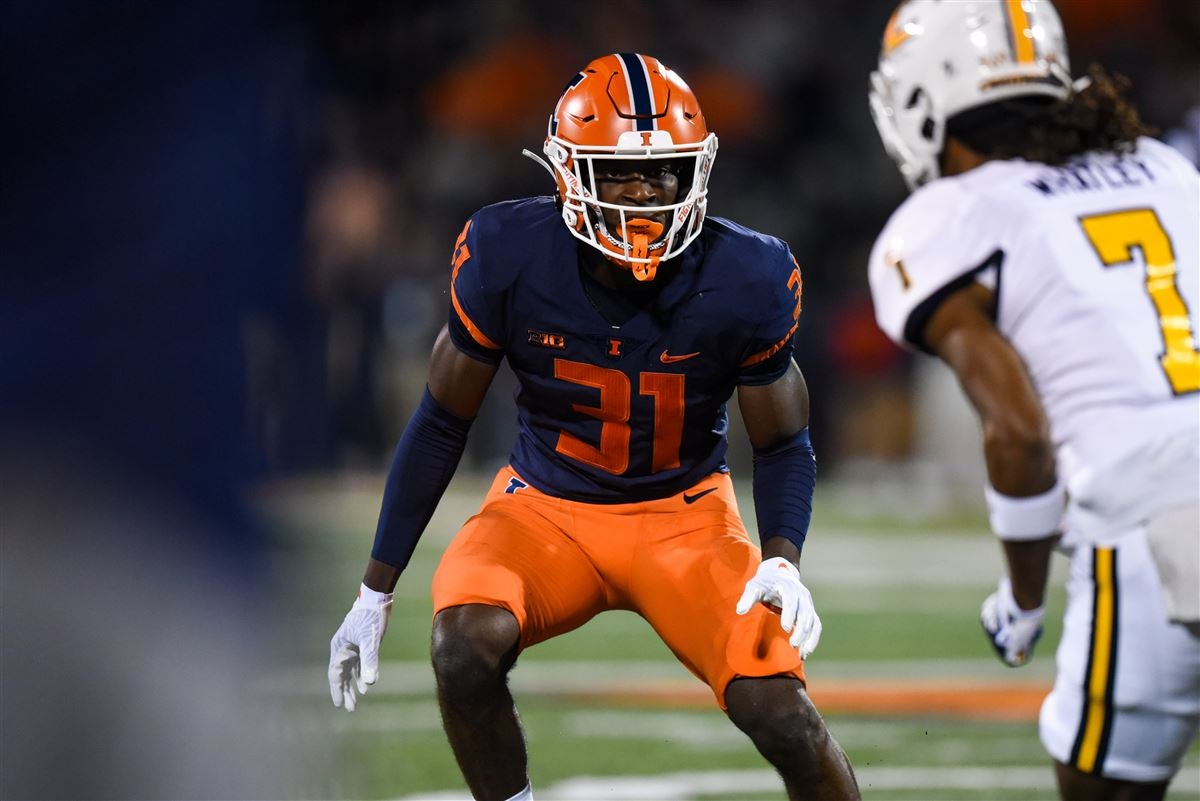 1st Round, 6th Overall: Devon Witherspoon, CB, Illinois
I'm operating under the assumption that only two quarterbacks go in the top 5 and that Anderson, Wilson and Carter are all off of the board. If three quarterbacks miraculously go in the top 5, then you're looking at one of the EDGE rushers or Jalen Carter being there and I think you immediately turn in the card and take whoever is left over. This cornerback class is deep enough that you can address it at 18 and be very happy about it. You won't get an Anderson/Wilson/Carter at 18. I do not think that CJ Stroud will be here at 6 but if he is, I would not fault the Lions for taking him and frankly, I would expect them to. As I said earlier, they can skip the other three quarterbacks of the "big five."
Will Anderson, EDGE, Alabama or Jalen Carter, DT, Georgia or Tyree Wilson, EDGE, Texas Tech
1st Round, 18th Overall: Brian Branch, S, Alabama
This is a spot where I could see the Lions dropping down in order to try and grab some more draft picks. Having to wait from 81 to 152 is an absolute lifetime and I just cannot see it shaking out like that. This is also where they can get put into a bit of a pickle if the draft does not shake out the way they want and they go Witherspoon at 6. There will be plenty of cornerbacks on the board and EDGE starts to get a little thin. I'm not the biggest Lukas Van Ness fan and it feels a little early for Isaiah Foskey or Bryan Bresee. That's why I would pivot and go with Brian Branch here or maybe take a look at Peter Skoronski or another offensive lineman. Branch can be a future starter at safety and give you some quality snaps in the nickel and a guy like Skoronski would solidify your offensive line. This is also why it's best if the Lions can get Will Anderson or Tyree Wilson because you have Deonte Banks and Joey Porter Jr just staring at you here.
Deonte Banks, CB, Maryland or Joey Porter Jr, CB, Penn State or Lukas Van Ness, EDGE, Iowa
2nd Round, 48th Overall: Keeanu Benton, DT, Wisconsin
I don't think O'Cyrus Torrence falls this far but if he did, the Lions should sprint to the podium and grab him (assuming they don't draft an offensive lineman at 18). This is the perfect spot to start looking at offensive players to help out Jared Goff or protect him. Grabbing Darnell Washington in this spot would be an option if he falls out of round 1, but there will be TEs later on if they skip him here. I would take a long hard look at the trenches in this spot and hopefully an offensive lineman is there, if not, get some beef to work next to Alim McNeill.
Darnell Washington, TE, Georgia or Steve Avila, OG, TCU or Jack Campbell, LB, Iowa
2nd Round, 55th Overall: Matthew Bergeron, OG/OT, Syracuse
If they have not drafted an offensive lineman to this point then I would bet money they take a swing at Matthew Bergeron or Cody Mauch. Both of them have position versatility and will be starters at guard on day one. Not to mention both could move back outside to tackle if there is an injury on the line.
Cody Mauch, OG/OT, North Dakota State or Luke Musgrave, TE, Oregon State or Cedric Tillman, WR, Tennessee
3rd Round, 81st Overall: Tucker Kraft, TE, South Dakota State
Looking at a tight end in the 55-81 range will probably be the best way to not give the majority of Lions fans hives. Targeting a guy like Tucker Kraft or Sam LaPorta gives you a guy that can contribute right away and has some upside, while not spending a tremendous amount of draft capital at the position.
Sam LaPorta, TE, Iowa or Kendre Miller, RB, TCU or Chandler Zavala, OG, NC State
5th Round, 152nd Overall: Michael Wilson, WR, Stanford
This is where we get into dart chucking territory. It's not often you're going to be lucky enough to fill actual starting spots at this point in the draft, but you want to find contributors and guys that will make your roster. Wilson will provide depth and has the upside to develop into a starter down the line. At the very least, his brain will make him an early contributor.
Tyjae Spears, RB, Tulane or Luke Schoonmaker, TE, Michigan or Dorian Williams, LB, Tulane or Jake Moody, K, Michigan
5th Round, 159th Overall: Jake Moody, K, Michigan
This is probably earlier than I would ever want to draft a kicker but history tells me that Moody is going to go in the 5th round at the latest. I don't think that Moody is a perfect prospect but he will get to kick indoors a minimum of 9 times a year and because of that, I will absolutely take a crack at him here. The kicking game was a disaster last year and if they had kept Patterson this could have been avoided. For me, you have to come out of this draft with Moody.
Jake Moody No Matter What
6th Round, 183rd Overall: Jake Haener, QB, Fresno State
As I said before, assuming the Lions do not sign Teddy Bridgewater in the next two days, I would anticipate the Lions drafting a quarterback. Haener has minimal upside and is already 24 but he could be a spot starter in a pinch. Honestly working through this mock draft made me want to skip QB entirely and draft a guy like Mitchell here.
Keaton Mitchell, RB, ECU or Payne Durham, TE, Purdue or Aidan O'Connell, QB, Purdue
6th Round, 194th Overall: YaYa Diaby, EDGE, Louisville
It would be a tough draft if the Lions got this far without addressing EDGE but it's entirely possible and it's how I ended up without trading around the board. If you start mixing in trades, especially a trade down from 18, you open yourself up to many more options down the stretch. Again, I would be flabbergasted if the Lions did not make a move to end up with a pick between 81 and 152…that is such a long time to wait and there is talent to be had.
Sidy Sow, OG, Eastern Michigan or Cameron Mitchell, CB, Northwestern or Jerrod Clark, DT, Coastal Carolina
This ideal draft would not be perfect…not by any stretch of the imagination and I'm sure many Lions fans would disagree with what I've done here. But the good news is the secondary looks set up for the long term and you have filled in the trenches for the foreseeable future. The lack of a running back or a linebacker would be a bit of a problem and is honestly one of the reasons why I think the Lions ultimately will trade down at least once. They have enough needs that it makes sense, especially if they end up grabbing a cornerback at the #6 spot. Dropping from 18 to 25 can give you plenty of picks to address those needs. I sound like a broken record, but the draft pans out the best when the Lions go EDGE or Carter at 6 and then grab a corner at 18. Mix in a trade down at some point after that to bridge the gap between 81 and 152 and the Lions will be well on their way to a successful draft.
Based on last year, only two players the Lions drafted made it in for a Top 30 visit…it's hard to know who all met with them and this is only the list of those that leaked. But it still gives you an idea of which players they are targeting.
QB C.J. Stroud, Ohio State (Top 30)
QB Anthony Richardson, Florida (NFL Combine)
QB Hendon Hooker, Tennessee (Top 30)
QB Aidan O'Connell, Purdue (Pro Day)
QB Adrian Martinez, Kansas State (Top 30)
RB Kendre Miller, TCU (Top 30)
RB Keaton Mitchell, East Carolina (Top 30)
RB Evan Hull, Northwestern (Pro Day)
WR Quentin Johnston, TCU (NFL Combine)
WR Jayden Reed, Michigan State (NFL Combine)
WR Ronnie Bell, Michigan (Pro Day)
WR Antoine Green, North Carolina (NFL Combine)
TE Darnell Washington (Top 30)
TE Sam LaPorta, Iowa (NFL Combine)
TE Tucker Kraft, South Dakota State (NFL Combine)
OT Darnell Wright, Tennessee (NFL Combine, Top 30)
IOL Steve Avila, TCU (Top 30)
OG O'Cyrus Torrence, Florida (Top 30)
OT Quinton Barrow, Grand Valley State (Pro Day)
T/G Jordan McFadden, Clemson (NFL Combine, Top 30)
G Antonio Mafi, UCLA (Top 30 visit)
G Chandler Zavala, NC State (Top 30 visit)
OL Mark Evans, Arkansas Pine-Bluff (Virtual)
OL Nick Saldiveri, Old Dominion (Virtual)
DL Adetomiwa Adebawore, Northwestern (Pro Day)
DL Karl Brooks, Bowling Green (Top 30 visit)
DL Jalen Carter, Georgia (Top 30 visit)
NT Siaki Ika (Top 30)
DL Desjuan Johnson, Toledo (Top 30)
EDGE Will Anderson, Alabama (Top 30)
EDGE Derrick Hall, Auburn (Virtual)
EDGE Caleb Murphy, Ferris State (Private Meeting)
EDGE Jose Ramirez, Eastern Michigan (Pro Day)
EDGE BJ Thompson, Stephen F Austin (Top 30)
Pass rushing LB Nick Hampton, Appalachian State (Pro Day)
LB Drew Sanders, Arkansas (Top 30)
LB Trenton Simpson, Clemson (NFL Combine)
LB Noah Sewell, Oregon (NFL Combine)
LB DeMarvion Overshown, Texas (Lions LB coach Kelvin Sheppard at Pro Day)
CB Emmanuel Forbes, Mississippi State (Pro Day, Top 30)
CB Clark Phillips, Utah (Top 30)
CB Garrett Williams, Syracuse (Top 30)
CB Carrington Valenton, Kentucky (Pro Day)
CB Cory Trice, Purdue (Pro Day)
DB Brian Branch, Alabama (Top 30)
DB Quan Martin, Illinois (Top 30)
S Jammie Robinson, Florida State (NFL Combine)
S Daniel Scott, California (Top 30)
QB Taylor Powell, Eastern Michigan
RB Lew Nichols III, Central Michigan
TE Luke Schoonmaker, Michigan
TE Joel Honigford, Michigan
WR Ronnie Bell, Michigan
WR Dylan Drummond, Eastern Michigan
OL Ryan Hayes, Michigan
OL Olu Oluwatimi, Michigan
OL Quentin Barrow, Grand Valley State
DT Mazi Smith, Michigan
DT Mike Morris, Michigan
DL Jose Ramirez, Eastern Michigan
LB Isaac Darkangelo, Illinois
LB Jalen Graham, Purdue
LB Trevor Nowaske, Saginaw Valley State
LB Lorenzo McCaskill, Kansas
CB Nic Jones, Ball State
CB DJ Turner, Michigan
CB Gemon Green, Michigan
CB Nick Whiteside, Saginaw Valley State
S Kaevon Merriweather, Iowa
P Bryce Baringer, Michigan State
P Brad Robbins, Michigan
It's almost show time here and I'm hoping it does not disappoint.
Image via: Pride of Detroit
Image via: 247 Sports