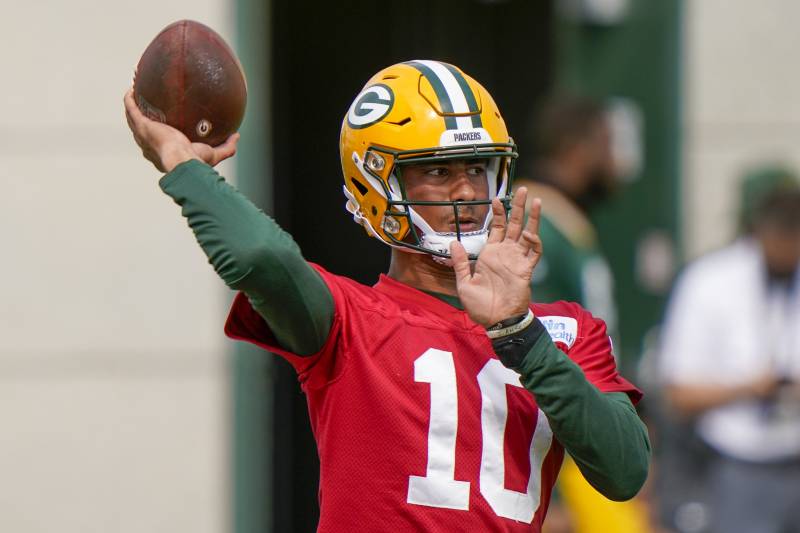 Maybe it's because I'm bored from being locked inside for so long. Perhaps that has put me in a more negative mood. Or perhaps I've just paid closer attention to the draft this year than in past years…unlikely, but possible. What I am sure of is that some teams had a real tough go drafting virtually this year and made some pretty critical errors.
You can check out the 2020 NFL Draft Winners here.
Green Bay Packers
First of all, YIKES. I mean, do not get me wrong, the Packers beat the Lions twice and lead for exactly 0 seconds both games. This was a flawed 13-3 team…BUT they still went 13-3 and were a game away from being in the Super Bowl. Sure, they got absolutely housed by the 49ers, but what kind of message does this draft send to your team? You trade up to draft the "quarterback of the future" when you still have Aaron Rodgers and you're trying to be a contender? Forget about the fact that I think Jordan Love is going to be a bust, why not give your quarterback a weapon? Or help out the defense?
Then you take a two-down running back in AJ Dillon. I'm a fan of Dillon but I would not have even considered drafting a running back that cannot catch the ball before the end of the third. Sure, Aaron Jones' contract is up after the year and it's likely the Packers do not want to pay him. That's fine. But why not trade back and take him? Or you know, take someone else? Then you spend your third rounder on an athletic tight end that will end up being an H-Back for you? Are you guys drunk?
Then you do not pick again until 175 and you're basically throwing darts, hoping you get guys that can make your roster. At the end of the weekend, the Packers did not draft one immediate starter in their offense. Dillon and Deguara will contribute, but they will not be impact players. Then you have Jordan Love, who is at least two years away, and I think it's much closer to never.
If I'm Rodgers and the rest of the veterans, I'm extremely pissed. The Packers front office and coaching staff basically just told all of them that the 13-3 record is a total facade and that this team is far away and you're going to build for the future. Just brutal.
Chicago Bears
The Bears were slightly handcuffed here because they spent their first round pick in their trade for Khalil Mack. And while Mack is an elite talent, I'm still not a fan of their draft. Cole Kmet is probably the best tight end in the draft, but you already shelled out money on Jimmy Graham and spent a second rounder on Adam Shaheen a few years ago. Shaheen is not even 26 yet, so you're essentially calling that pick a bust. Which is fine, but to take Kmet over a guy like Grant Delpit that could help immediately was not great. Tight ends have a historically difficult time making an impact early on, so you essentially spent your first pick in the draft on a third tight end for this year. An odd move to make for a team that traded a fourth round pick for Nick Foles, which implies they are trying to win now.
I actually liked the Jaylon Johnson pick and I think he will be a starter for them. Kindle Vildor has potential to be a special teamer but that was easily a round early for me. And Mooney is a bit of the same; a tiny water bug that could have been had much later. Not to bag on the small schools, but do the Bears only send scouts to non-power 5 conferences for the later rounds?
Atlanta Falcons
I have no idea what the Falcons were doing with this first round pick and frankly, they're really just on here because of it. A.J. Terrell got absolutely wrecked in the college football playoffs and while he had a good body of work prior to that, it is clear he cannot cover marquee receivers. Why would you take a corner 16th overall that cannot cover other teams best wide receivers?
I like Davidson and Hennessy's versatility but the rest of the picks were reaches. And frankly, taking Hennessy over Cushenberry does not make much sense to me. It seems like they had a plan to shore of their defense and snag a future starter in the interior offensive line, they just did not do a good job of executing their plan.
Seattle Seahawks
The Seattle Seahawks are always a wildcard when it comes to the draft. They always seem to have a drastically different board than everyone else and some of their picks do not seem to make sense.
Taking Jordyn Brooks over Patrick Queen was a head-scratcher and then to circle back and take Darrell Taylor was interesting to say the least. Taylor is explosive and was productive in college but he's not very polished as a pass rusher and I think he would have been there had they waited.
Damien Lewis was a nice pick but then to draft Colby Parkinson in the 4th was odd. The Seahawks signed Greg Olsen this summer and already have Will Dissly, Jacob Hollister and Luke Willson on the roster; seems a lot like overkill to me. Taking DeeJay Dallas in the 4th probably is not great news for Rashaad Penny but I guess we'll see how it all plays out. I won't knock them for throwing a dart at an athletic and raw tight end in Stephen Sullivan in the 7th…but frankly it makes taking Parkinson even more peculiar, unless they're going to go ahead and cut Dissly and Willson.
Houston Texans
I actually liked the Ross Blacklock pick and think Isaiah Coulter is a sneaky good pick. I just had to throw the Texans on here because their offseason was a complete joke. They did not have a first round pick in this draft because of the Laremy Tunsil trade, and then they had to give Tunsil a short-term deal for $22 Million a year (holy overpay) because they traded for him without having an extension. Then you move DeAndre Hopkins because you do not want to pay him while simultaneously taking on the ridiculous salary of an oft-injured running back. David Johnson has some talent and will probably do well on the Texans, but that price tag is a no for me. Not to mention they could have likely gotten him in free agency after the Cardinals inevitably cut him.
Then you go out and toss a second rounder at the Rams for Brandin Cooks, after giving Randall Cobb $18 Million. There is straight up zero plan in Houston right now. All of their moves make less sense than the next and they're just chucking up half court prayers. They could have, and SHOULD HAVE, had a first round pick in this draft if they were going to move Hopkins. If you look at what the Bills gave up for Diggs, there is no reason to think they would not have done the same for Hopkins. So to have a draft with this few of picks and you got rid of Hopkins…just woof. The draft was whatever, but the offseason puts them on this list for sure.
Biggest Head-Scratcher But Could Be Good: Los Angeles Rams
Let me start by saying that I actually like the players the Rams drafted. I think their first three picks are very good players. I just do not understand what they are doing.
They have had to cut and trade multiple players to try and fix their salary cap hell they have created by giving Jared Goff a monster contract. And rather than try to plug holes, they spend their first two picks on luxury skill position players? Darrell Henderson and Malcolm Brown had a small chance to act as a duo when Todd Gurley was out and obviously the Rams were not happy with them. But I'm not sure that they performed badly enough for the Rams to take Cam Akers with their first pick in the draft. And then you spend your other second round pick on Van Jefferson when you already have Robert Woods, Cooper Kupp and Josh Reynolds. Why not go elsewhere? Van Jefferson is a good player and a great route runner, but I just do not understand the reasoning. You can say they were just going best player available, but I have a hard time believing they did not have someone graded at a position of need
They signed A'Shawn Robinson and Leonard Floyd in free agency to help the front seven, but who is starting in the secondary opposite Jalen Ramsey? Kristian Fulton went after the Rams took Akers and Jefferson, why not snag him? Do you really want Micah Kiser starting at inside linebacker? Or why not address the offensive line? Andre Whitworth is 38 and not getting any younger at that left tackle spot.
Terrell Lewis and Terrell Burgess will be good rotational pieces and both could end up starting this year. I'm just not sure I understand the second round picks. Hell, I do not like the Brycen Hopkins pick with how well Gerald Everett and Tyler Higbee have performed, but Everett's contract is going to be up after this year and they probably will not be able to keep him. That pick I at least can understand.
The Rams picked good players, I just do not understand why they did not address more positions of need instead.
[Photo via: Bleacher Report]