Courtesy of a busy work schedule this bad boy is coming out later than ever before…but I had to throw up something.
Last year I drank a lot of the Matt Patricia Kool-Aid and did not think the growing pains would be as brutal as they were. I thought 10-6 was possible and 9-7 was likely but man, oh man was it bad. The defense was bad, the offense was bad and it was just a complete debacle. This year, after watching the preseason and looking at the roster, I am not drinking the Kool-Aid. Could they make the playoffs? Perhaps…especially after what I saw out of the Bears and Packers offenses this week. Only issue is, the Lions want to be a run a similar offense to what the Packers just did.
OFFENSE
Same as always…extremely simple situation at quarterback. If Matthew Stafford stays healthy then the quarterback situation is pretty damn solid but if he gets hurt then the season is over. They've been turning over every stone to try and find a quarterback to back him up. They brought Josh Johnson out of retirement, basically, traded for David Blough, had Tom Savage, added a couple guys to the practice squad. Just begging to find someone to be a capable backup. Josh Johnson and Blough are the two backups, but god help us all if Stafford gets hurt…even if Darrell Bevell is going to put the reigns on him and not use his arm.
Running back is going to be interesting this year. I would love for Kerryon Johnson to be the guy and get all of the snaps but C.J. Anderson played a ton on 3rd downs in the preseason and it sure seems like he's going to be the 3rd down back. I love the addition of Ty Johnson for the Theo Riddick role and to return some kicks, he's electric and overall, this unit is talented. It's important to note too that they put in a claim on J.D. McKissic who played in Seattle with Bevell and they also put in a claim on Devine Ozigbo but did not get him. Obviously they liked their three backs but still wanted to add a fourth to provide some depth and some more range in talent.
Wide receiver has two supposed big dogs in it with Marvin Jones Jr and Kenny Golladay. I'm not as high on Golladay as a lot of people are but he can definitely make plays. After those two though, things get really thin. Amendola is old and has about 14 concussions, Travis Fulgham is intriguing and Chris Lacy is going to be a special teamer. It should not matter too much, because if I had to guess, they will not have more than 2 or 3 wide receivers on the field very often. Much to my chagrin.
Tight end is pretty obvious, Jesse James and TJ Hockenson will play a lot. I think Hockenson has a lot of talent but there is a ton of pressure on him. Tight end is one of, if not the toughest, position to adjust to in the NFL and unfortunately fans will not be patient with him. The Lions are going to run a lot of 12 personnel this year so expect both to get massive amounts of playing time. I think Hockenson will move around and line up in the slot a decent amount as well and try to create mismatches (you know, like they could/should have done with Eric Ebron once upon a time).
I would like to say that the offensive line is finally solidified after all these years and all of this money and draft picks spent, but alas, here we are. Frank Ragnow has looked excellent at center but of course, he got banged up in the preseason. Taylor Decker is still a bit of a wildcard and I think Rick Wagner has been underwhelming. Graham Glasgow has been solid and provided value and while Kenny Wiggins is listed at LG, I think Joe Dahl could end up getting some run there after his big contract extension. It's a unit with a lot of resources invested in it and they have not gotten much in return.
This unit could be good. But I really do not love the run-first style and I hope the line can actually get it together. It has talent but something seems to always go wrong. The line will be the entire crux of this offense and if they do not play well then they will not have a chance in hell to get anything done. Especially if they're going to try and control the clock and play slowly and be methodical. You know, just like you watched Kansas City do to teams last year (screams internally).
DEFENSE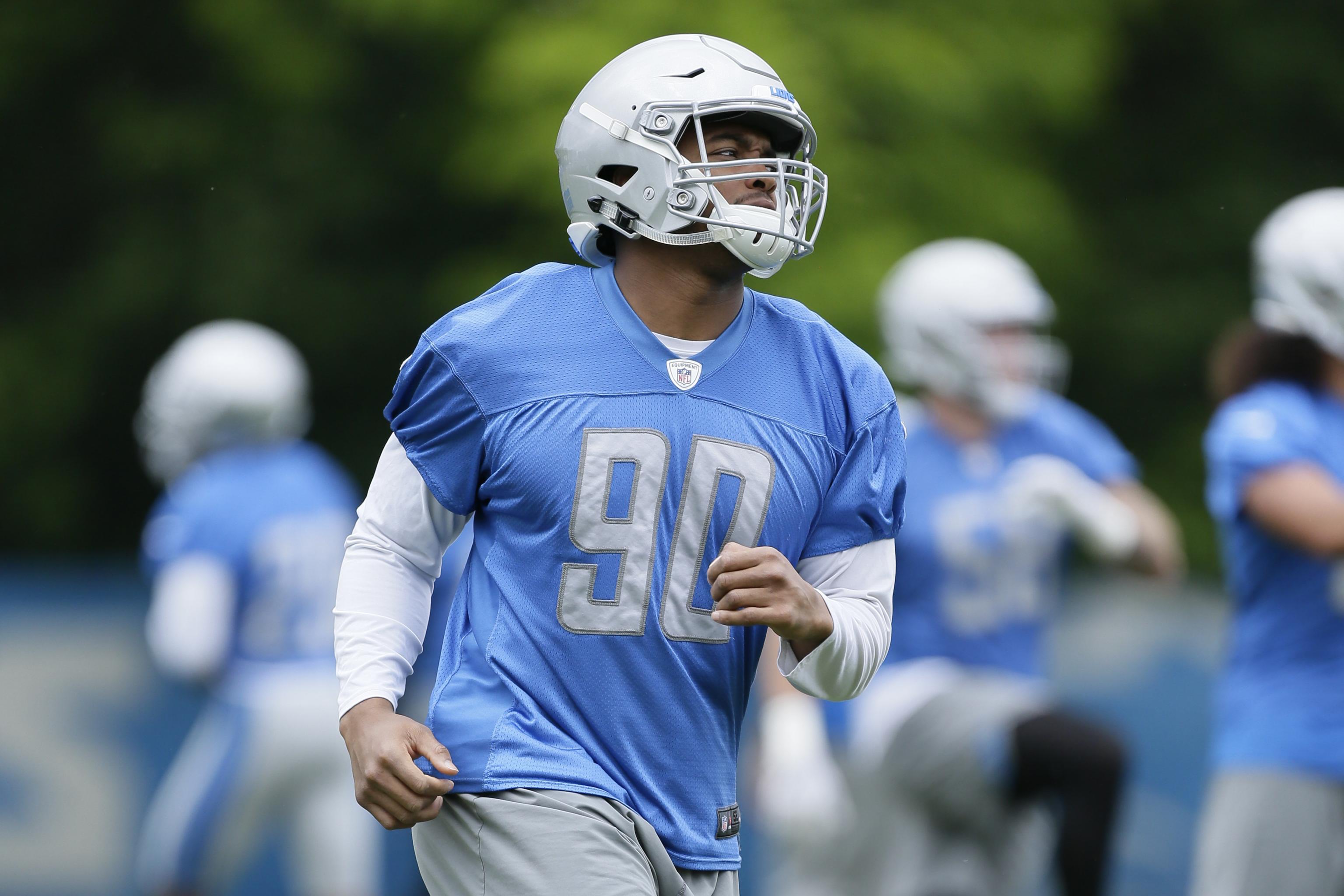 The defense needs to take some big time strides and figure things out. Unfortunately, the unit is already banged up and Jarrad Davis is probably going to be out for a few weeks. Da'Shawn Hand is already out for this weekend, which is unfortunate.
The Lions did the smart thing and let Ziggy Ansah walk and ended up adding Trey Flowers. Then they went ahead and hit the lottery when the Packers cut Mike Daniels and he wanted to sign in Detroit. Adding those two to a group that has Hand, Snacks Harrison, A'Shawn Robinson, and Romeo Okwara and you've got one helluva group. One of the biggest issues last year was the inability to get a pass rush consistently and it was not until they traded for Snacks that they could stop the run. This defensive line will be the crux of the defense (just like the OL with the offense), and it's clear that Patricia wants to win in the trenches to win football games. If the defensive line can get consistent pressure, it will make things easier on linebackers and in the secondary.
The linebacking group took a big hit losing Davis for a bit and now Jalen Reeves-Maybin will be thrust into a starting role with Devon Kennard and Christian Jones. Then again, the Lions love Jahlani Tavai so he will could likely start. I still hate watching Tavai in coverage, but he can make some plays when he's coming down hill. It's going to be interesting to see how the unit does without Davis, but I was impressed with JRM this preseason. Hopefully it carries over into the regular season.
The secondary had a bit of an overhaul this offseason losing Nevin Lawson, Glover Quin and finally cutting ties with Teez Tabor. Teez was a failed draft pick and even though I'm surprised they decided to cut him now, I'm not surprised he did not pan out. He was not athletic enough and now he's on a team that he's not a system fit for…he was fighting an uphill battle as soon as Patricia was hired.
Darius Slay is back and he'll be the lockdown guy and the Lions spent a pretty penny on Justin Coleman to have him play in the slot and possibly even opposite Slay. Rashaan Melvin will be the other corner opposite slay when they have 3 CBs in (and possibly all the time). They have Jamal Agnew to provide depth in the slot and Amani Oruwariye will take some time to develop. I would love for Oruwariye to develop quickly and start with Slay and Coleman, but I would not hold my breath. He's got talent, but typically there is a reason for a guy to fall so far in the draft.
At safety, Quandre Diggs and Tracy Walker will be the starters with a plethora of backups. Tavon Wilson, Miles Killebrew, Will Harris and C.J. Moore will all contribute on special teams and I'll be curious to see how much Harris plays. I was impressed with the development of Walker last year but the Lions taking Harris in the third round says a lot.
This defense has some pieces in place and looks quite different from last year. It should be a vastly superior group and be tremendously improved.
SPECIAL TEAMS
Prater, Martin, Muhlbach, Death, Taxes, etc.
I expect Ty Johnson to return kicks and Jamal Agnew to go back to returning punts.
SEASON PREDICTION
Regular Season

WK

DATE

OPPONENT

TIME

TV

Prediction

1
Sun, Sep 8

4:25 PM

W
2
Sun, Sep 15

1:00 PM

W
3
Sun, Sep 22

1:00 PM

L
4
Sun, Sep 29

1:00 PM

L
5
BYE WEEK
6
Mon, Oct 14

8:15 PM

L
7
Sun, Oct 20

1:00 PM

L
8
Sun, Oct 27

1:00 PM

W
9
Sun, Nov 3

4:05 PM

W
10
Sun, Nov 10

1:00 PM

L
11
Sun, Nov 17

1:00 PM

L
12
Sun, Nov 24

1:00 PM

W
13
Thu, Nov 28

12:30 PM

W
14
Sun, Dec 8

1:00 PM

L
15
Sun, Dec 15

1:00 PM

W
16
Sun, Dec 22

TBD

L
17
Sun, Dec 29

1:00 PM

W
So as of right now I've got the Lions at 8-8. It could fluctuate a lot after seeing the Green Bay and Chicago offenses (as I said before), but who really knows what to expect with the Lions offense. I'm not a big run-first fan or Bevell fan, so right now I'm expecting a lot of what we saw on Thursday night from those two teams, especially the Packers. I hope to god that I'm wrong, but I'm not encouraged. Perhaps I just have a lot of PTSD from watching Michigan the past few years try to run-first and MAN BALL people and just absolutely sucking and having no two-minute drill and all of that wonderful nonsense.
The defense is going to have to be a lights out unit and they are going to have to keep opponents from moving the ball. One thing I thought they did well in the preseason was create turnovers. Last year they had sweet nothing for turnovers and it crushed them. The defense needs to keep getting turnovers like they were in the preseason and giving the offense a short field to make things easier. If the defense does work and the offensive line is good then this team has a chance to make a move. If the Lions do go 7-9 or 8-8 and miss the playoffs though, the seat will get EXTREMELY hot for Matt Patricia and Bob Quinn.
It will get especially hot starting tomorrow if they lose to a rookie quarterback week one again.
[Photo via: Bro Bible]
[Photo via: Yahoo Sports]
[Photo via: Bleacher Report]