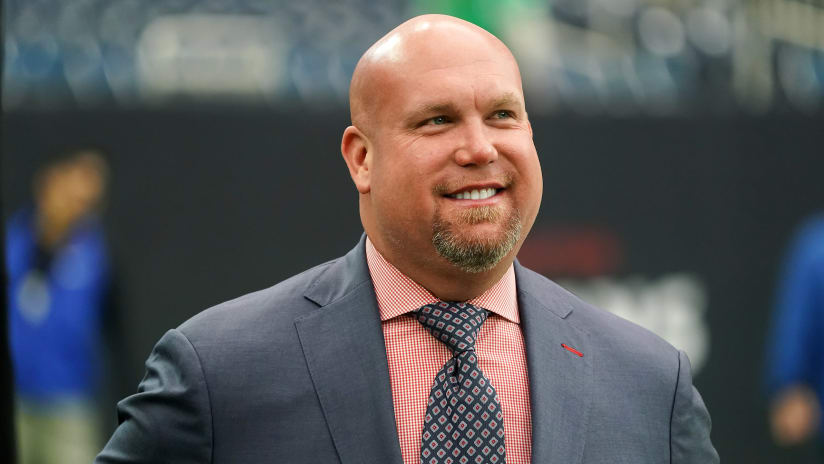 I'm going to end up cheating a little bit with the NFL Draft Losers but since this is my blog, I think that's going to be alright.
(Check out the 2019 NFL Draft Winners here)
Steve Keim
I liked what the Arizona Cardinals did in the NFL Draft. I think Kyler Murray is a stud and I think they did a good job of surrounding him with weapons. Byron Murphy is a great second round pick. So listing Steve Keim/the Arizona Cardinals here has nothing to do with the actual draft that they had this past week. It's a good one and I think it made them a lot better. BUT, to only get a late 2nd round pick and a 2020 5th round pick for Josh Rosen is truly terrible.
The fact that there are rumors that Keim did not even start shopping Rosen until AFTER they had already picked Kyler Murray is a complete embarrassment. Hiring and firing Steve Wilks after one-year was questionable, but to trade Josh Rosen after a year for pennies on the dollar is brutal. How could you possibly wait so long to trade Rosen, let alone talk about trading him? It's not that you were surprised Kyler Murray was going to be available for you or that you just magically decided to take him on draft night. You've had the #1 overall pick for MONTHS and the rumors have been swirling for MONTHS about Kyler to the Cards. So to just start shopping him now and to have no idea what the trade market was like for him is a fireable offense. It's straight up negligence.
The Cardinals had an absolutely atrocious team last year and they essentially traded the 15th overall pick in 2018, a 2018 3rd and a 2018 5th for 13 starts (14 GP) out of Rosen, a late 2nd (62nd overall) and a 2020 5th round pick. I mean…what the hell are you doing?
New York Giants
If not for the Daniel Jones pick, this would actually be a pretty decent draft. Deandre Baker is wonderful value at pick 30 and even though it was early for Dexter Lawrence, he's still a nice addition.
But at the end of the day, it does not matter what the rest of the draft class is like because the Giants had an offseason that you do not come back from. Drafting Daniel Jones at #6, letting Landon Collins walk for absolutely nothing, trading Odell Beckham Jr and Olivier Vernon (which added $24 Million in dead cap). Forgetting about the fact that they were absolutely robbed in the trade, if they had moved on from both of them before last year, they could have saved $35 Million. Couple all of this with drafting Saquon Barkley over Sam Darnold? I would be finding a new team if I was a Giants fan. Saquon ended up being way better than I thought he would be, I'll give Gettleman that. But how much of an impact did Saquon have? He had basically a transcendent rookie season for a running back and the Giants still went 5-11. Dave Gettleman has completely wrecked the franchise in a calendar year and I'm not sure how you come back from it.
I know you want to scout traits and sometimes really good players are on bad teams and do not have help, but come on. Anyone that watched Jones this year had to be underwhelmed. I watched him a few times and thought he looked average at best. If Daniel Jones was not coached by David Cutcliffe would he have even been drafted in the first three rounds? Between his time with Eli and Daniel Jones, Cutcliffe has gotten Erik Ainge, Thaddeus Lewis, and Sean Renfree to the NFL. Some BIG names there.
But hey, other teams were going to get him so he had to take him.
Tampa Bay Buccaneers
The Bucs had an interesting draft. The Devin White pick was a solid one, predictable, but solid. They obviously felt that defense was a major need since their first five picks addressed the defense. The 2nd round is early for Sean Bunting for me and I like Dean's speed but that's about it. Edwards and Nelson will likely be contributors, but then to draft a kicker after all of that? Sure, Gay is a solid kicker and they've had well-documented issues kicking recently, but they had plenty of needs on offense that were not addressed.
I thought the Bucs could have looked at a guard or tackle for their right side to replace Caleb Benonoch or Demar Dotson. They have some good receiving options in OJ Howard, Mike Evans, Chris Godwin and Cameron Brate, but I do not love Breshad Perriman as a third wide receiver. Scott Miller may be a sleeper to some, but I'm not sure he's going to start year one in the league. Looking at running back, it's a good sign for Ronald Jones that they did not draft a running back early, but with only him and Peyton Barber essentially on the depth chart, I thought they could have stood to add one later in the draft. They did a good job addressing the defensive side of the ball, I just thought there were some better players available. As long as they know what their team needs more than me, they should be okay. I think Bruce is going to turn Jameis Winston around too.
San Francisco 49ers
Okay, let me start this off by saying that Nick Bosa is a stud and I love Deebo Samuel. Those were two great picks. I think Jalen Hurd is going to be a nice offensive weapon for them, but it felt an awful lot like a luxury pick. They already have Dante Pettis, Marquise Goodwin and Jordan Matthews on the roster AND they added Deebo the round before him.
They added some major pieces in free agency with Tevin Coleman, Kwon Alexander, Jason Verrett (if he can stay healthy) and then traded for Dee Ford. But Verrett has only played 5 games since the end of the 2015-16 season. He was a stud, but who knows if he has it anymore. I think Ahkello Witherspoon is good but if Verrett goes down again, they get thin at cornerback in a hurry. And while I like Jimmie Ward, they're not exactly loaded at safety. John Lynch likes his safety group but I find it hard to believe they would not have been better served taking a defensive back in the 4th instead of a punter.
I like what they've done with their front seven, and they've got some nice weapons on offense for Jimmy G…but it really seems like they would have been better off going in a different direction in the 3rd and 4th rounds.
Houston Texans
I had seen rumors on twitter that Tytus Howard was a fast riser and could go round 1 but I almost did not believe it when I saw it. Nothing that anyone tells me will make me believe that this is not a panic move after the Eagles traded up right in front of them to draft Andre Dillard. The Texans badly needed to get Deshaun Watson help and that's what they did.
I do not think Howard is ready to start this year and while I like Scharping, the second round is early for him. Lonnie Johnson will likely end up starting this year and I like Kahale Warring's athleticism. Omenihu should be a solid rotational end for them, so they had some good value in their first couple picks despite some reaches.
If Howard pans out and is a stud then this draft will be fine, but to take a guy that raw that early is an issue for me if you're trying to win/protect your QB now.
Boom or Bust: Oakland Raiders
I really liked the Raiders draft, truly I did. But there were two picks on here that made it a lock to be a boom or bust on the losers post.
Taking Clelin Ferrell for me is a big issue. He's a good player, but they could have traded down 6-8 spots and it STILL would have been early to take him. Josh Jacobs has been written in sharpie on every mock draft at the 24 spot for months and I'm still not sure why they did not trade down and take him. I mean, sure, Marshawn Lynch is most likely retired, but is Jacobs really a first round difference maker? I like him as a player, but I do not value running backs enough to take them in the first round. After those two picks though, I really liked what they did with the draft. They moved around the board, they still got some players. Mullen was a little early for my taste, but I'm not going to ding them for that at all. I think that Maxx Crosby is a sleeper candidate to start this year and Foster Moreau and Hunter Renfrow should be reliable contributors right away.
The other thing that grinds me a bit with the Raiders is how their bad moves last year impacted this year. They drafted Kolton Miller in the first round and passed on Derwin James. Then they end up drafting Jonathan Abram this year and decide not to pick up Karl Joseph's 5th year option. There had been talks about trading Joseph last year so this was inevitable and seems like a pretty poor series of events. You draft a bad tackle, spend a ton of money on Trent Brown in free agency, pass on an elite safety and then you draft one in the next draft? All the while choosing not to trade Karl Joseph, a former first round pick. I like Abram but he's not as good as Derwin James. Yes, this may be nitpicking, but if you have Derwin James last year, maybe you pick a better player at 27 this year.