After the disappointment that was last season, it is tough to say that I've been really looking forward to this Michigan football season. It's not often that I can say that, but the Outback Bowl left a really sour taste in my mouth and I was bitterly disappointed in the team's performance and the coaching staff. Fortunately, it's a new year with new players and quite a few new coaches. Jim McElwain and Ed Warriner are joining the offensive side of the ball with Sherrone Moore and Al Washington is going to work on the defensive side of the ball. McElwain is going to work with the wide receivers, Warriner with the offensive line and Moore with the tight ends. Suffice it to say that they are re-working the offense and the departure of Tim Drevno should mean they are going in a new direction. The offensive line is supposedly working on simpler calls and schemes which are supposed to work this time around. The most important new person at Michigan is obviously Shea Patterson. He is the real deal…but the offensive line still needs to protect him and the coaches need to gameplan better and call better plays to put players in a position to succeed. Will that happen this year? I hope so, but it's far from a guarantee. This should not be considered a dig at Jim Harbaugh or Don Brown…but Pep Hamilton. The coaches have said they've simplified things on offense quite often this offseason, but we have not seen it work in a game yet. Harbaugh has the final say on all of the play calls and he is supposedly taking more ownership of calling plays this year (I don't think he ever gave it up) so hopefully he can work some magic.
OFFENSE
For the first time since Andrew Luck was his starter at Stanford, Jim Harbaugh named his starting quarterback more than two weeks before the opener. For me, this means that the QB race was not close whatsoever. That's not really a surprise given Shea's competition and the hype that he came in with. Not to say that Brandon Peters, Dylan McCaffrey or Joe Milton do not have talent but they certainly do not have the experience to match up with Shea and his talent. I expect them to roll Shea out a lot and get him moving as much as possible with the uncertainty of the offensive line. His mobility is going to add another element to the offense and I think Michigan is going to run a lot more plays out of the Shotgun than in the past. He has the arm talent to make every throw so hopefully the offensive line keeps him upright. If things go Michigan's way in the early part of the season, I would expect all four quarterbacks to get some playing time.
Looking at the runningbacks it is quite clear that Karan Higdon and Chris Evans are the clear-cut 1-2 punch. With Kareem Walker leaving, it's only going to be walk-on Tru Wilson or true freshman Christian Turner as the #3 guy. Higdon and Evans are a great compliment to each other and Michigan is going to need both of them to stay healthy to try to crank out a consistent rushing attack. Wilson and Turner are unproven at the collegiate level and I would like a balanced offense for a change.
Wide receiver saw a lot of turnover this year with Moe Ways and Drake Harris grad transferring and Kekoa Crawford and Eddie McDoom just straight up transferring. Mix in the fact that Tarik Black is hurt again and likely out for the season (right foot this time) and there is a serious lack of depth. First of all, Arkansas fans warned Michigan fans about new strength coach Ben Herbert's methods resulting in quite a few broken feet for them. Hopefully this is not going to be a trend but it is a concern that Tarik is hurt. Now some will say that a guy that breaks their foot is likely to put more stress on the other foot during rehab to offset it and this ups his risk to break the other foot, but still, something to keep an eye out for.
Anyways, back to the wide receivers. Donovan Peoples-Jones and Nico Collins will start on the outside and Grant Perry will be in the slot. I would expect Oliver Martin to shift between the inside and outside while Nate Schoenle gets some run on the outside. With the lack of depth, I would expect a lot more out of Zach Gentry and Nick Eubanks lining up in the slot or in different spots out wide to catch passes. Both of them are athletic enough and will cause mismatches that will help the offense so you're not running DPJ, Collins and Perry into the ground. Nico Collins got quite a bit of experience last year and there is no reason that he and DPJ cannot take a big step forward in Tarik's absence.
The tight end group took a bit of a hit when Tyrone Wheatley Jr decided to transfer, but with Sean McKeon, Zach Gentry, Nick Eubanks and true freshmen Mustapha Muhammad and Luke Schoonmaker they should be fine. McKeon is the only truly complete tight end of the top 3 and is more in the Jake Butt mold. Gentry and Eubanks are more like Eric Ebron…but hopefully they end up catching the ball better. Gentry put on a lot of weight this summer so I'm expecting him to take a big step forward and if Eubanks can actually stay healthy, I'll be curious to see what contributions he makes. If Muhammad is healthy, I would expect him to skip redshirting and play a bit. They need to get a few more guys with experience in this group and with Tarik Black being out, it's going to be all hands on deck.
Begrudgingly, this means it is time to talk about the offensive line. As of Sunday night's open practice the line was:
LT: Jon Runyan Jr LG: Ben Bredeson C: Cesar Ruiz RG: Michael Onwenu RT: Juwan Bushell-Beatty
Now, it's not all doom and gloom. I think the interior line is going to be quite solid and could end up being a strength. The lack of proven tackles though is a major issue. Runyan Jr played RT last year and JBB was beyond meh. If the tackles are glorified turnstiles, it will not matter how good Shea Patterson is. I do not usually harp on Michigan recruiting and always defer to the coaches and not the stars…except with the offensive line. Enough time has been spent recruiting project offensive linemen and nothing has come of it. Now we are looking at a potential disastrous sieve that prevents and elite defense and stud QB from reaching their full potential. That is truly unacceptable. Ed Warriner better be a helluva coach and the schemes better be simplified because the guys behind this group do not give me confidence. Stephen Spanellis has moved from tackle to C/G. James Hudson moved from the defensive side of the ball to guard. Chuck Filiaga is a redshirt freshman. Ryan Hayes is a high school tight end that moved to tackle and is a true freshman and Jalen Mayfield is a true freshman. There's talk that Mayfield might be in the mix for JBB's RT spot which I cannot decide if that is scary or encouraging because he's so talented. I'm not sold on Andrew Steuber being able to contribute and if you see Nolan Ulizio on the field, just know that all hope is lost. A lot remains to be seen, there are a ton of question marks and the offense will go as far as this group will take them. They do not even have to be elite…they just cannot suck and drag the whole offense down with them. Say a couple prayers at night for them.
DEFENSE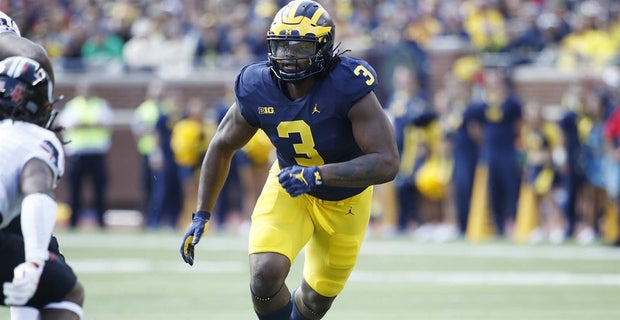 Now we can move onto something more pleasant. The strength of this team is the defense and it is not even debatable. Getting Chase Winovich back was huge for the defensive line. Having to replace Maurice Hurst is problematic enough, but it is do-able with the talent that Michigan has on the interior line. Winovich and Rashan Gary will clearly be your starters at defensive end and I would expect a healthy rotation of Bryan Mone, Aubrey Solomon and Michael Dwumfour on the interior. Dwumfour has been the most talked about player since spring ball started so I'm hoping that the hype is real and that people have not become hypebeasts for an average defensive tackle because he's big. Lawrence Marshall and Carlo Kemp will add depth to the interior and Luiji Vilain and Kwity Paye will rotate in at the defensive end spots. I would also bet money that true freshman Aidan Hutchinson is going to be in the mix with how much he has been talked about. He's a mammoth of kid at 6'6″ 270 lbs and I'm curious to see how he handles himself early on.
Linebacker/Viper is pretty well set with Devin Bush and Khaleke Hudson returning. The two of them are monsters and Bush could be a first round pick after this year even though he's only 5'11." Khaleke Hudson replaced Jabrill Peppers at the viper position pretty seamlessly because he's a better fit, and I would expect him to take another step forward again this year. The only question mark is who will start at the Will linebacker spot. I've heard that it's between Devin Gil and Josh Ross, but I would not count out Josh Uche rotating in. He's not a pure will linebacker but I think they're going to want to get him on the field. Ross' versatility will allow him to be a backup at the Mike linebacker spot along with Jordan Anthony and I would expect Jordan Glasgow to be the backup at Viper. I would expect freshmen Cam McGrone and Mike Barrett to get snaps early with the freshman rules, but I do not think that either one of them will contribute significantly this year on the defensive side of the ball unless there are injuries.
The starting secondary is set, barring injury, with Lavert Hill and David Long at CB and Tyree Kinnel and Josh Metellus at the safety spots. Grad transfer Casey Hughes is an intriguing addition and he seems to be playing primarily in the slot CB spot. Ambry Thomas should get playing time in the secondary as well as returning kicks again and Brandon Watson will add some more depth. As for the backup safeties they'll have Jaylen Kelly-Powell at FS and Brad Hawkins or J'Marick Woods at SS. JKP and Woods got playing time last year along with Ambry Thomas and I think they'll contribute in a big way on special teams. I'm sure they'll rotate in on defense, but I'm not sure they're ready to unseat the incumbent starters.
As for special teams…Quinn Nordin will kick and who knows who will punt. Chris Partridge said that there were three punters in the mix for the job and after last season, I'm not sure what to make of the situation. Brad Robbins was supposed to be the best freshman punter last year and he was absolutely awful when he got looks. He's hurt right now, but I would expect him to start when healthy. I would also expect Donovan Peoples-Jones to return punts and Ambry Thomas to return kicks…unless of course someone new has emerged in camp. Without a Spring Game this year it seems like we've got less information than ever before.
FRESHMEN
This year you should expect more freshmen to play than ever before. With the new NCAA rule that you can play four games before you burn your redshirt, there are going to be a lot of kids playing early. I'm hoping that they save a few games for some kids in case of injury and especially save one game for the bowl game…unless of course there are injuries. I would expect almost every freshman to play in at least a few games, so obviously there is no point in me listing all of them. If you're wondering who might play more than the four games, the front-runners are: Christian Turner, Mustapha Muhammad, Jalen Mayfield, Aidan Hutchinson and my dark horse is Ronnie Bell. After watching Bell run around at the open practice…I was intrigued. The kid has some unbelievable athleticism.
DEPTH CHART
SEASON PREDICTION
Date
Opponent
Time/TV
W/L
Saturday
Sep. 1
at Notre Dame Fighting Irish 
Notre Dame Stadium, Notre Dame, IN
7:30pm ET
NBC
W
Saturday
Sep. 8
Western Michigan Broncos 
Michigan Stadium, Ann Arbor, MI
Noon ET
FS1
W
Saturday
Sep. 15
SMU Mustangs
Michigan Stadium, Ann Arbor, MI
3:30pm ET
BTN
W
Saturday
Sep. 22
Nebraska Cornhuskers 
Michigan Stadium, Ann Arbor, MI
Time TBA
TV TBA
W
Saturday
Sep. 29
at Northwestern Wildcats 
Ryan Field, Evanston, IL
Time TBA
TV TBA
W
Saturday
Oct. 6
Maryland Terrapins (HC)
Michigan Stadium, Ann Arbor, MI
Noon ET
TV TBA
W
Saturday
Oct. 13
Wisconsin Badgers 
Michigan Stadium, Ann Arbor, MI
Time TBA
TV TBA
L
Saturday
Oct. 20
at Michigan State Spartans 
Spartan Stadium, East Lansing, MI
Time TBA
FOX/FS1
L
Saturday
Oct. 27
OFF
Saturday
Nov. 3
Penn State Nittany Lions 
Michigan Stadium, Ann Arbor, MI
Time TBA
TV TBA
W
Saturday
Nov. 10
at Rutgers Scarlet Knights 
High Point Solutions Stadium, Piscataway, NJ
Time TBA
TV TBA
W
Saturday
Nov. 17
Indiana Hoosiers 
Michigan Stadium, Ann Arbor, MI
Time TBA
TV TBA
W
Saturday
Nov. 24
at Ohio State Buckeyes 
Ohio Stadium, Columbus, OH
Noon ET
FOX
W
Looking at the schedule, it would be easy to see that Michigan could very well go 7-5 or 8-4 if a lot of things go wrong…actually, let's be honest, with the difficulty of the schedule it would not even have to go THAT wrong. This is an absolute meat grinder of a schedule. Having Notre Dame, Michigan State and Ohio State all on the road is awful. Then you have to play Wisconsin at home (probably at night) before Michigan State and then come out of a bye and play Penn State? Woof. Now personally, I think that Wisconsin and Penn State are overrated. Alex Hornibrook is probably the worst quarterback of any of the preseason ranked teams and I think Trace McSorely is a fraud. That being said, neither team is a slouch and Wisconsin has a legit defense. MSU and OSU will be tough outs with Brian Lewerke (MSU) and Dwayne Haskins (OSU) at QB. I think both of them are wildly underrated and Haskins actually is the only reason Ohio State beat Michigan last year is because of Haskins. I think Michigan will be able to get by Notre Dame on the road because they've had a whole offseason of thinking about nothing other than the brutal year last year and they've had plenty of time to prep.
If Michigan's offense can find a way to put up 21-24 points, they could easily go 12-0…the defense is that good. My gut says that something bad will happen along the way and they'll get tripped up and lose 2-3 games. I just think the lack of depth on the offensive line and at wide receiver leaves absolutely no room for error and as good as Shea Patterson is, he's not Peyton Manning or Tom Brady. Hopefully this short preview gets you ready for this weekend…it's coming up quite soon, whether we're ready or not. Go Blue.
[Photo via: Detroit News]
[Photo via: Freep]
[Photo via: 24/7]