With the Detroit Lions season right around the corner, it's hard not to be excited about this season. Then you think about how many wins came at the last second last year, how brutal the defensive line depth is, how Taylor Decker is hurt, and you start to get a little bit uneasy. The number of 4th quarter comebacks the Lions had last year is not sustainable. I do not care what anyone says, it straight up is not.
At any rate, I think the Lions are going to be an improved ball club from last year. I'm probably one of the few, but I'm trying to turn into an optimist…or at least be more optimistic. For example, I was not sure if I liked the Lions jersey's at first, I thought they were solid but did not love them. Now you see them during games and I think they're outstanding. It does take a bit to get used to less black on the jerseys and the blue pants on the road, but they look real good. I'm curious to see how they look when they start mixing and matching jerseys and pants.
Okay, enough chit-chat, let's take a look at the squad:
OFFENSE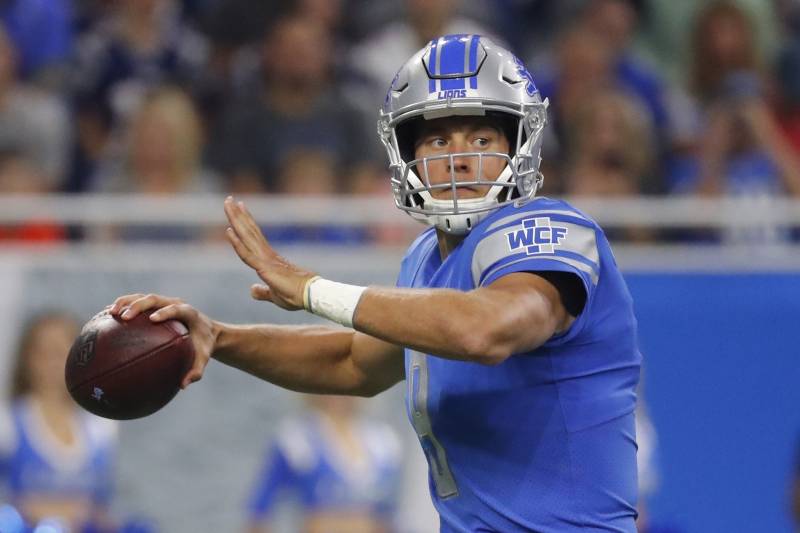 If you're not aboard the #TeamStafford train, then you might as well find a new team to pull for. He's going to be the quarterback for the forseeable future and he's a legit option. Matthew Stafford is a Top 10 quarterback in the NFL and he's worth every penny that the Lions are paying him. The cap is only going to go up from here and it's probably going to be $200 Million in the next 2-3 years, so space won't be an issue. Not only that when you look at guys teams are starting across the league, why in the hell would you not sign him? Scott Tolzein, Blake Bortles, Jared Goff, Josh McCown, Mike Glennon, Tom Savage, Brian Hoyer, Trevor Siemian, Deshone Kizer…all week 1 starting QBs in the NFL..I mean are you kidding me? Kizer and Goff may still end up developing (not holding my breath on Goff) but the rest are a total dead-end. Sure, Tolzen is only starting because Andrew Luck is hurt, but that is 7 QBs out of 32 that are just an absolute train wreck…and some of you want to get rid of Stafford. You must be outta your minds.
Does Stafford have areas that he needs to improve on? Sure. But I was quite satisfied with his performance as a leader and a player last year. He showed outstanding poise and this year he is going to have a much-improved offensive line. Hopefully Jim Bob Cooter will stretch the playbook more, so it is not so much nickel and diming with the pass plays, but we'll have to see what happens. His accuracy last season was vastly improved and though he did not have his favorite security blanket in Calvin Johnson, he seemed more in-control and more confident in the offense. Hopefully we will not ever need Jake Rudock to play. He's a nice kid and capable backup, but just, no. Someone needs to have a talk with Michigan fans that want him to start. Most of us wanted to send him on a bus back to Iowa after the Utah game, relax. He's not better than Stafford.
Running back is going to be interesting. Ameer Abdullah and Theo Riddick are both coming off injuries and I pray that they can stay healthy. The Lions need both to have a successful offense. Riddick excels as a pass catcher out of the backfield, but he's not a great runner. Abdullah has shown some flashes of brilliance, but he has not been able to stay healthy. He is the dynamic runner that the Lions desperately need and have been missing the past couple seasons. If he can stay healthy, with the new offensive line, I'm expecting some big things for the Lions run game/offense. I said last year that without Abdullah, the Lions would rush for 350 yards…they ended up with 1310 and Riddick lead the team with 357 yards…so yeah, that's pretty brutal.
Wide receiver and tight end have been positions that have greatly disappointed as of late. Not necessarily because of their overall performance, but because of the drops. This preseason did nothing to dissuade my concerns that this group drops far too many passes for their talent level.
I really do like the receivers though. Marvin Jones, Golden Tate, TJ Jones, and Kenny Golladay are a solid group of receivers. No, I'm not forgetting about Jared Abbrederis, he's just not nearly as important as the other four. Jones and Tate are expected to run numbers again this year and I'll be curious to see if TJ Jones returns punts or if Jamal Agnew does. I cannot imagine they would risk Golden Tate, but I guess you never know. Jim Caldwell said today that TJ Jones was the team's #3 wide receiver, so it seems as though Kenny Golladay cooled off after his hot week 1 preseason start. He's got a big frame, more so than the other three ahead of him, so he will likely be targeted heavily in the red zone along with Michael Roberts. They may not have a superstar in this group, but they have more than a couple legit options and the depth to this group is rock solid. Had Marvin Jones had fewer drops, he could have gotten 70 more yards and then the Lions would have quietly had two 1,000 yard receivers…which is more than solid.
At tight end, there is a big of a hodgepodge right now, especially since Eric Ebron has not been very healthy this preseason. When he is healthy, he is a weapon. I'm not an Ebron fan, but he's not a bust nor is he a waste of space. He had 61 receptions for 711 yards and that is absolutely nothing to turn your nose up at. I have high hopes for him this year and I expect him to spend a lot of time lining up at wide receiver and creating mismatches in the slot, something he missed out on last year with Anquan Boldin in Detroit. If he can stay healthy, I think he'll have a very good year. He's due for a breakout and I think it's going to happen this year. I was excited when the Lions drafted Michael Roberts…he's an absolute monster of a human being and should develop into a big time red zone target.
Okay, sure, it's just the preseason, but this is a good start for the rookie. Blocking as a rookie tight end can often prove to be difficult. Add in the fact that they signed Darren Fells in the offseason, a blocking tight end, and they should be able to protect Stafford/open holes for the running game better than ever before.
The offensive line was a position group that was in desperate need of an upgrade and when they did, it looked so sexy. It's such a shame that Taylor Decker had to get hurt so they will not have their starting line ready to go for the start of the season. Greg Robinson is very meh, and has not lived up to his #2 overall selection back in 2014. That being said, he seemed to get better as the preseason went on and as long as Decker can get back around Week 6-8, that line will be in fantastic shape. Signing Rick Wagner and TJ Lang were absolutely monumental upgrades over Riley Reiff and Larry Warford. Wagner and Lang excel in both run blocking and pass blocking and should do wonders to solidify the right side of the line. I'm not totally sold at Graham Glasgow starting at left guard, but he can play center and his versatility will keep him on the Lions roster for quite sometime. Hopefully Travis Swanson will take another step forward this season, and hopefully he stays healthy. It would be great to have some stability at the center position. As long as the offensive line can keep Stafford upright, the offense is going to be able to move the ball. A lot of their issues in the past have stemmed from injured running backs and a poor offensive line. Right now everybody is healthy and they have upgraded their offensive line with two pro bowlers. I'm excited.
DEFENSE
This defense scares the absolute hell out of me if we're being quite honest. The defensive line depth is absolutely non-existent. The linebackers are very young and bright-eyed. And the secondary has a lot of slot corners.
Losing Kerry Hyder to a knee injury in the preseason was an absolute dagger. Ziggy Ansah did not play at all in the preseason, and while he's "healthy" now there's no chance he's ready to have an impact right now. So the edge rushers are weak right now. Anthony Zettel is versatile and Jeremiah Valoaga had a good preseason, but Valoaga is a UDFA rookie and inexperienced. We'll see what happens with Washington but at least he has some experience. With the interior line, I like A'Shawn Robinson and Haloti Ngata, but Akeem Spence and Jeremiah Ledbetter as your primary backups is not exactly super reassuring. I'm not sure how the Lions are going to get pressure on the quarterback without blitzing all the time.
The linebacker group has 2/3 positions shored up. I like Davis and Whitehead as starting backers and I think Jalen Reeves-Maybin has shown some serious promise, but is not ready to start. I do not really care for Worrilow, Bellore or Longa, but what do I know. They'll play a lot on special teams and hopefully they do not have to play a lot on defense. Davis struggled in coverage during the preseason game against the Patriots, so hopefully they focus on improving that as the season goes along. I was surprised to see Antwione Williams get cut, but they must think that he's not good enough to start and not versatile enough to be a backup…not a great combo.
The secondary is going to be interesting. Two of the pieces are absolutely rock solid. Darius Slay and Glover Quin are fantastic and there is absolutely nothing to worry about with those two. Quin is one of the most underrated safeties in the NFL and Slay is easily Top 15 corner in the league. Someone between Nevin Lawson, DJ Hayden, and Quandre Diggs will start at the #2 corner spot and one will be in the slot. I was hoping that Teez Tabor would be further along at this point, but cornerback is a very tough position to adjust to in the NFL. It's important to remember that Slay was not very good as a rookie and patience is an absolute MUST when developing corners. Even if you do not like the pick (I did not).
Lawson, Hayden and Diggs are all better suited for the slot, but someone is going to have to step up and play the #2 spot. My guess will be Lawson. He was okay during the preseason, but he likes to play very physical which is more suited for the slot. Tavon Wilson is a serviceable starter and while Miles Killebrew is listed as a strong safety, it would not shock me to see him take some snaps at linebacker.
Next draft, the Lions need to focus on defense. Do not even bother drafting an offensive player. The depth chart on the defense is a struggle right now.
SPECIAL TEAMS
You know the drill, Matt Prater is sick. Sam Martin is solid but he's hurt so Casey Redfern is starting. Pretty basic stuff. The real intrigue is in the return game. Dwayne Washington has been good returning kicks and I love watching Jamal Agnew return punts. I really hope they do not use TJ Jones or Golden Tate and give Agnew a shot because he's fun to watch.
SEASON PREDICTION
2017 REGULAR SEASON SCHEDULE
WK
DATE
OPPONENT
TIME (ET)
PREDICTION
1
 9/10
 vs Arizona
1:00 PM FOX
        W
2
9/18
@ New York
8:30 PM ESPN/WatchESPN
          L
3
9/24
vs Atlanta
1:00 PM FOX
          L
4
10/1
@Minnesota
1:00 PM FOX
        W
5
10/8
vs Carolina
1:00 PM FOX
        W
6
10/15
@ New Orleans
1:00 PM FOX
         W
7
BYE WEEK
8
10/29
vs Pittsburgh
8:30 PM NBC
        L
9
11/6
@ Green Bay
8:30 PM ESPN/WatchESPN
         L
10
11/12
vs Cleveland
1:00 PM CBS
         W
11
11/19
@ Chicago
1:00 PM FOX
         W
12
11/23
vsMinnesota
12:30 PM FOX
         W
13
12/3
@ Baltimore
1:00 PM FOX
          W
14
12/10
@ Tampa Bay
1:00 PM FOX
          W
15
12/16
vs Chicago
4:30 PM NFL
         W
16
12/24
@ Cincinnati
1:00 PM FOX
          L
17
12/31
vs Green Bay
1:00 PM FOX
          W
Alright, I went through and originally had the Lions pegged for a 14-2 record and I decided that I should put down the kool-aid and mix in a water. Looking at this as objectively as possible, I think that the Lions have a very attainable goal of 11-5. They have a pretty damn good schedule and while they have some tough games that could result in a 9-7 record, they should still make the playoffs again. I would say that 9-7 and the playoffs would be a solid season, but I think if everything works out for them and they stay healthy that 11-5/12-4 is the high-end of the spectrum for wins. Bob Quinn had a bang-on draft in 2016 and I liked this year a lot too. Hopefully there will be more of the same in the future.
[Photo via: Bleacher Report]
[Photo via: Sporting News]
[Photo via: Freep]