With the Michigan Football season starting in less than a week, I figured it was best to break down what to expect out of the team this year, and which fresh faces will emerge and have an impact.  This team has a lot of potential and a pretty favorable schedule, a lot of the success will hinge on how well the offensive line can protect Devin Gardner and how well they open up holes for the running game.  As always, football games are won in the trenches.
Offense
The good news is quarterback Devin Gardner is now going to be taking the snaps.  Based on what I saw out of Gardner last year, he seems like a more accurate version of Vince Young.  He's quick, elusive, smart, and as NFL Network's Mike Mayock put it, he has a "buggy whip" for an arm.  Gardner has had a full offseason to gain a better grasp of the offense and has taken plenty of reps to improve.  Offensive coordinator Al Borges also gets his pro style quarterback full-time now, and the offense will look dramatically different than it has in past seasons.  There will be a lot more plays under center and the pro style offense transition will be complete this year.
The only reason Gardner's numbers wouldn't improve is if the interior offensive line struggles and the rest of the offense doesn't support him.  He's not going to be like Denard Robinson where any time he touches the ball it could end up in the end zone.  Shane Morris is currently slotted to be his backup because Russell Bellomy tore his ACL in the spring, meaning no redshirt for Shane.  Hopefully he isn't needed for anything other than handing the ball off at the end of blowouts, because if Gardner goes down, the season will go down with him.
The running game should be much improved from last year with the arrival of Derrick Green on campus.  Fitzgerald Toussaint has had plenty of time to get back to full strength and he will be the incumbent starter at the beginning of the season.  Green had a setback with an ankle injury that kept him out of full practice for about two weeks, so I wouldn't expect him to get a ton of carries until the Akron game unless he gets a good grasp of the offense.  Green is also listed at 240 lbs, so hopefully that is either some good weight, or he will cut down a bit during the season.  Green is going to be a bruiser that will be tough to bring down, while Toussaint will bring more of the speed and quickness to the backfield.  Drake Johnson, Thomas Rawls and Justice Hayes are likely to get some carries as well, but I wouldn't expect them to have nearly the same impact that Toussaint and Green will have.  I think the most surprising news when the depth chart came out was that Rawls was listed as 4th on the depth chart, with Drake Johnson at the backup spot for the first game.  Johnson is by far the fastest running back Michigan has, and his downhill speed with his one cut running style is going to be very effective.
The wide receiving core took a hit when Amara Darboh suffered a foot injury that will keep him out the rest of the season.  Darboh had been receiving rave reviews all spring and all fall, but it is tough to say that this is a major loss since Darboh has yet to catch a pass.  That being said, the young receiving core just got younger.  Jeremy Gallon, and Drew Dileo are going to have to step up even more now and Joe Reynolds, Jeremy Jackson and Jehu Chesson will fight to replace Darboh.  Chesson is the most athletic of the 3 J's, but the weight of the load will now be placed onto Gallon and the tight ends.
Sophomore tight end Devin Funchess is a major matchup problem for defenses and he is going to have to be a major factor in the passing game next year.  It wouldn't surprise me to see Funchess line up at wide receiver on the outside to try and give the Wolverines some better matchups.  A.J. Williams will return as primarily a blocking tight end, and hopefully his pass catching has improved enough to make him a viable option.  I fully expect Jake Butt, a true freshman, to play right away now that Darboh has gone down. Butt will be similar to Funchess in that he will present major matchup problems with his size and athleticism.
The Funchise.
I'm expecting the offensive line to be good this year, but, it is always difficult to replace your interior offensive line two years in a row.  Thankfully Michigan has their bookend tackles, Taylor Lewan and Michael Schofield, to help ease the transition.  Kyle Kalis will be starting at right guard with Graham Glasgow, a former walk on, starting at left guard and Jack Miller starting at center.  This is at least how the depth chart unfolds for the first game against Central Michigan.  Michigan's offensive line will be absolutely massive this year; Jack Miller is going to be the smallest player on the line and he is 6'4″ 290 lbs.  What the interior offensive line lacks in experience, they make up for in size and they will maul people at the line of scrimmage.  Kalis is an absolute stud who has had a full year of practice and lifting while he redshirted; the right side of the line will be solid.  It will be interesting to see how Glasgow and Miller play and the Central Michigan game will be a good indicator of how things will go going forward.  Wisconsin used to be Offensive Line U, but in a short period of time, Michigan will be the new Offensive Line U.
Defense
Defensive coordinator Greg Mattison has said that there will be more pressure on the defensive line to get after the quarterback because he is going to blitz less this year.  The defensive line has to deal with the losses of Will Campbell and Craig Roh, but Ondre Pipkins has another year under his belt, as well as Frank Clark.  If Jibreel Black is healthy, he will be starting at defensive tackle while Quinton Washington starts at nose tackle.  Both of them played in those spots last year and I expect they will be better this fall.  The question mark for me will be how Keith Heitzman does at strongside defensive end and how he replaces Craig Roh.  He doesn't have to make plays like Roh did, he just has to be good enough to cover his assignments, much like Will Heninger did in Brady Hoke's first season.  Clark will continue to start at weakside defensive end and his athleticism will allow him to get to the quarterback and wreak havoc in the pocket.
The linebacking group was poised to be fantastic, until Jake Ryan went down in spring ball with a torn ACL.  My hope is that Ryan will be back in time for Big Ten play, which would provide a major boost to the team.  Desmond Morgan and Joe Bolden will rotate in the middle and Bolden will also play some on the outside.  The two formed a formidable duo last year, and with another year of seasoning and offseason training, Michigan will be strong up the middle.  James Ross III was one of my favorite freshman last year, he was very instinctive and didn't hesitate while he was playing.  He will return as the starting weakside linebacker and I have no concerns about him whatsoever.  He hits holes hard and wraps up his tackles like an upperclassman.  The big concern will be which player will replace Ryan.  Brennan Beyer was moved from strong side defensive end to strongside linebacker, but it's not clear if he is set to be the starter.  5th year senior Cam Gordon will have a chance to start and it would be nice to see him finally contribute.  His development as a player was stunted dramatically because of his continual position changes.  I expect Beyer and Gordon to rotate a lot, with Gordon playing in a lot of passing down situations.  It wouldn't even surprise me to see the defense run a lot of 4-2-5 nickel defense until Ryan returns.  My hope is that when Jake Ryan returns, Beyer will move back to defensive end, replacing Heitzman, and that will solidify the front seven greatly.
The secondary is going to be much-improved this year, despite the loss of the irreplaceable Jordan Kovacs.  Adding Blake Countess back in at starter is going to be massive.  Countess was a major missing piece last year and him and Raymon Taylor will make a great starting tandem.  Countess' coverage skills were a key that was missing and being able to put him on an island will allow Mattison to call more exotic plays on defense and play less zone coverage.  Courtney Avery and true freshman stud Dymonte Thomas will be the two vying for time in the nickel, and Avery has also been working at safety.  Avery is currently hurt, and will miss the first two weeks, and Blake Countess is listed as the starter in the nickel as well as the outside.  Either Thomas will play in the nickel with Countess on the outside, or one of three cornerbacks will play on the outside with Countess in the nickel.
Brady Hoke said in his press conference on Monday that true freshman Channing Stribling, Jourdan Lewis and Delonte Hollowell are the ones competing to be the first corner off the bench..  Stribling is 6'2″ and a highly athletic and a criminally underrated recruit.  Delonte Hollowell is a shorter corner in his junior season that has only played primarily on special teams until now.  Coming out of high school Hollowell was an athletic corner that was good in press and bump and run coverage.  I think it is safe to assume he is a better player now, but he hasn't played much.  Jourdan Lewis, like Stribling, is a true freshman and Lewis was highly rated, coming out as a four-star according to Rivals.  Lewis is very quick and instinctive and he has great ball skills, but his big issue is that he isn't a great tackler. He has obviously shown enough in camp that he will be able to hold his own.  Thomas Gordon is locked into the starting free safety spot, and Jarrod Wilson was thought to be the starter at strong safety, but Brady Hoke debunked that this week.
Pretty unsettling to hear that Kovacs replacement isn't getting the job done one week before the first game, even though Wilson played pretty well last year.
Special Teams
No concerns or changes here really.  Brendan Gibbons will still handle the kicking duties, while Matt Wile does the punting full-time because Will Hagerup can't stay away from trouble.  The only change is that Dennis Norfleet will now return kicks AND punts; presumably because they don't want Gallon or Dileo to get injured and because Norfleet is flat out explosive with the ball.  Norfleet has been moved to slot receiver for this upcoming year and I imagine they will do their best to get him a fair amount of touches in space.  When you have a playmaker like Norfleet, you have to find ways to get the ball into his hands.
Freshman To Watch
Derrick Green- Green comes in as the highly touted five-star and thought of as the best runningback in the country by Rivals.  He's a bruising running back and his film is flat out scary.  I fully expect him to get about 30-45% of the team's carries over the course of the year and he will likely be the goal line and short yardage runningback.  I'm very excited to see his running in person and I'm hoping he is as good as advertised.  The running game will need all the help it can get because it was anemic last year.
Jake Butt- I honestly don't know if Jake Butt will play at all this year, Hoke hasn't said anything about whether he will redshirt or not.  My opinion is that now that Darboh is out for the year, Butt will absolutely play.  He's listed as 6'6″ 237 lbs and was the 5th best tight end and a four-star according to Rivals.  He's the type of tight end, like Funchess, that will cause matchup issues for linebackers and safeties.  He'll be great running seam routes over the middle to find space in zone coverage, and if a linebacker or safety is on him in man coverage, they're going to be in trouble.
Dymonte Thomas- Thomas is listed as 6'2″ 190 lbs and is the future starting strong safety.  He's going to get a lot of playing time at the nickel corner this year, where his size and athleticism will cause problems for slot receivers.  A lot of young corners and safeties started their career at the nickel spot to get them playing time.  Thomas was a four-star according to Rivals and he was an early enrollee, meaning he has had plenty of time to learn the playbook and hit the weight room.  He's an aggressive and explosive player that I cannot wait to see on the field.
Channing Stribling- As I said earlier, Stribling is 6'2″ and extremely athletic.  He's a physical corner with good ball skills and he was highly underrated coming out of high school.  He doesn't have elite speed, but he is fast enough to turn and run with most receivers.  Stribling was taken because his coverage skills were a bit raw, but you cannot teach a player his height to be as athletic and instinctive as he is.  He does need to add weight (only 171 lbs) and it remains to be seen how well he will be able to tackle at the next level, but my guess is that Stribling is going to turn out to be a fantastic pickup.
Jourdan Lewis- Lewis is from Cass Tech, like many other players on the roster, and he was a highly rated four-star.  He's a solid height (5'10") for a cornerback and his athleticism is outstanding.  I had hoped that he and Stribling would redshirt to work on their tackling, particularly Lewis, but their depth must be bad enough (or they had good enough camps) that they both might have to play.  Lewis' ball skills and instincts should make him a ballhawk, which will be crucial for the Wolverines because they will need all the help they can get in forcing turnovers.  I don't expect Lewis to start on the outside because he won't be great in run support and if he gets matched up on a larger wide receiver, he will have trouble bringing him down.
Start of the Season Depth Chart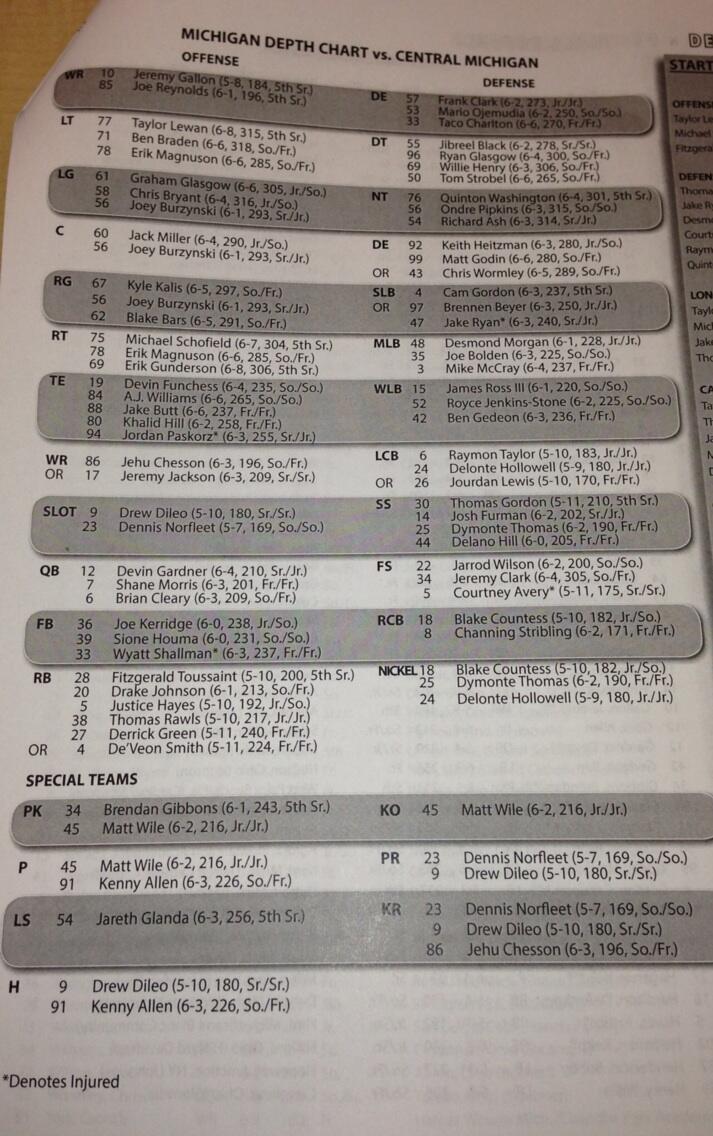 Bold Unbiased Prediction Based On Zero Games Played
Date
Opponent / Predicted Outcome
Location
Time / Result
Sat., Aug. 31
vs. Central Michigan  W
Michigan Stadium
3:30 p.m. ET
Sat., Sep. 7
vs. Notre Dame  W
Michigan Stadium
8:00 p.m. ET
Sat., Sep. 14
vs. Akron  W
Michigan Stadium
12:00 p.m. ET
Sat., Sep. 21
at Connecticut  W
East Hartford, Conn.
TBA
Sat., Oct. 5
vs. Minnesota – Homecoming *  W
Michigan Stadium
3:30 p.m. ET
Sat., Oct. 12
at Penn State *  W
State College, Pa.
5:00 p.m. ET
Sat., Oct. 19
vs. Indiana *  W
Michigan Stadium
3:30 p.m. ET
Sat., Nov. 2
at Michigan State *  W
East Lansing, Mich.
TBA
Sat., Nov. 9
vs. Nebraska *  W
Michigan Stadium
TBA
Sat., Nov. 16
at Northwestern *  L
Evanston, Ill.
TBA
Sat., Nov. 23
at Iowa *  W
Iowa City, Iowa
TBA
Sat., Nov. 30
vs. Ohio State *  L
Michigan Stadium
TBA
Sat., Dec. 7
Big Ten Championship Game  vs. Ohio State W
Indianapolis, Ind.
TBA
I think that Michigan will finish the regular season 10-2.  They absolutely have a chance to finish 12-0 and they could also falter and go 8-4.  Personally, I think that Northwestern will be much-improved and playing in Evanston is never easy and could be one of their losses.  I also see Michigan losing to Ohio State at the Big House, but rebounding and beating them in Indianapolis to win the Big Ten Championship to give Ohio State their only loss on the year.
Notre Dame would have been a possible loss, but with the loss of Everett Golson and Tommy Rees now inserted as their starting quarterback, they're no longer a concern.  With the game being played at home and Under The Lights, Michigan will be too jacked up to lose to a Notre Dame team with no offensive weapons.
Penn State and Michigan State on the road, and Nebraska at home are three other games that could cause issues other than Northwestern and Ohio State, but I think that the talent Michigan has will allow them to pull out a victory.  Penn State and Michigan State may be on the road, but neither one has a proven quarterback.  Stout defense can only take you so far if your quarterback cannot move the ball down the field and get some points.  A 10-2 regular season with a Big Ten Championship game victory to gain a bid to the Rose Bowl would be a heckuva year and I would welcome it.